Accidental release of chemical used in water treatment gives residents a shock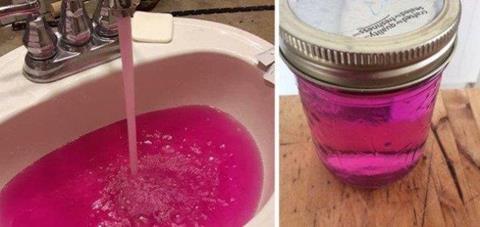 Residents of a small Alberta, Canada town saw their drinking water turn pink after potassium permanganate – a powerful oxidising agent commonly used in water treatment – got into its water supply. The incident, which occurred in Onoway, was caused when a valve became stuck, allowing the chemical to enter the water system.
'There was just a trace, a backwash, from a valve that didn't close soon enough,' explains Onoway's mayor, Dale Krasnow. 'All the lines are flushed, and everyone has good, clear water again,' he tells Chemistry World. 'For most people, it didn't even last a full day.'
Both Alberta Environment and Alberta Health Services (AHS) immediately said the water was safe, and that is why it was never completely shut off, according to Krasnow. 'We just closed down some water lines and flushed them one at a time,' he says. Those who had pink water were among the last of the town's roughly 1000 residents to have their lines flushed.
Potassium permanganate is used in water treatment to remove iron and hydrogen sulfide. The chemical can cause skin irritation and brown staining of the skin, according to the World Health Organization.
Although Krasnow was not advised by authorities to issue a public advisory, and all indications are that there was never a public health risk, he issued a statement on 6 March apologising and acknowledging that the town could have done a better job of communicating about the incident. 'We are just happy that it was something minor like this, and nothing major,' the mayor says. Krasnow says the plant's entire mechanical system is being examined to determine what caused the valve failure, which he describes as 'very unusual'.
The dramatic photos of the pink sink and toilet water that circulated through social media were exaggerated, Krasnow suggests. 'I think it was a reflection of the pink sink,' he says, arguing that the pink that showed up in Onoway's public water was much more subtle.

Rebecca became the US Correspondent for Chemistry World in September 2014, based out of Washington, DC, after writing for the magazine on a freelance basis since 2007.
View full profile