$17bn acquisition of Mead Johnson expands presence in developing markets, especially China
Reckitt Benckiser has agreed to buy baby milk formula firm Mead Johnson for $17 billion (£13 billion) in cash and taking on $1.3 billion of Mead's debt.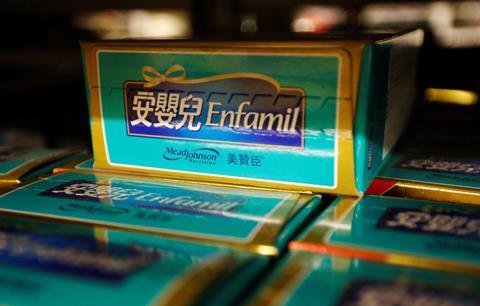 The UK group is known for brands such as Durex condoms, Nurofen painkillers and Dettol disinfectant. The company said the move would almost double revenues in its consumer health portfolio. Mead Johnson holds about 10% of the baby milk market, and its Enfa brands are especially strong in China.
Mead has attracted extensive acquisition speculation over the past two years, usually involving Danone or Nestlé, the market leaders for baby milk. Reckitt's move has surprised analysts, who expected it to pursue acquisitions more within core consumer healthcare, such as cough medicines.
'Some would say this is a bad deal for Reckitt because it's not a category they know. I feel otherwise,' says market analyst Martin Deboo at Jefferies. 'They have always said they are about mums and not molecules, meaning they are not beholden to a particular pharmaceutical or category.' Reckitt has experience in improving newly acquired products, he adds, having bought Mucinex in 2008 and grown its US market share from 2% to 12% in the cough and cold segment.
The acquisition of Mead is part of a shift in the over-the-counter (OTC) medicine landscape. 'Big pharma are no longer willing sellers of their consumer health assets and this has obliged Reckitt to modify its strategy,' says Deboo.
But the sector is consolidating: Sanofi has acquired Boehringer Ingelheim's consumer business, in exchange for its animal health arm. And in 2014, Bayer took on Merck & Co's OTC business (which Reckitt had bid on). Analysts widely suspected Reckitt to pursue Pfizer's consumer healthcare segment, but with Pfizer abandoning its plans to split up, a sale appears less likely. 'Reckitt decided its destiny lies elsewhere. If life is giving you lemons, make lemonade,' says Deboo.
The deal gives Reckitt a greater foothold in developing markets, which will make up around 40% of the combined group's sales, with China becoming its second largest market. However, the Chinese baby milk market is volatile: Mead's sales slipped during the past two years, with net sales down 8% in 2016. Consumer faith in local milk formula has not yet recovered from revelations about melamine-tainted produce in 2008, Deboo says.
Reckitt sees a silver lining. 'There is a change in how the Chinese government wants to control the quality and safety of brands in this very fragmented market, with 2000 brands [of infant formula],' Reckitt's chief executive Rakesh Kapoor told investors. He predicted this will prove beneficial for global brands with the right quality.
Reckitt projects 3–5% growth in Mead products in the medium to long term. It cites demographic trends in developing markets, urbanisation, a higher proportion of working mothers, as well as changes in China's one child policy as supporting growth.
In a lawsuit filed last week in Illinois, the former global compliance chief of Mead Johnson is suing her former employer for unfair dismissal, alleging that her dismissal came after her attempts to get the company to notify the FDA about a problem with seals on bottles of ready-to-use formula.