Fusion protein kills aphids and caterpillars but doesn't disrupt bees' foraging instincts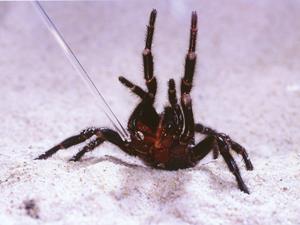 A pesticide based on the venom of a spider, which is toxic to nuisance insects such as aphids and caterpillars, appears to be harmless to honeybees. The finding opens the way to a new generation of compounds that take their cue from natural molecules that can selectively target pest species.
Several years ago Glenn King from the University of Queensland in Australia isolated and characterised a peptide from the venom of the Australian funnel web spider Hadronyche versuta. When fused with a carrier protein to aid its transport across the gut wall, the toxin was shown to fatally disrupt calcium channels in the nerve cells of certain insect pests while remaining harmless to mammals.
Now, researchers from the UK and Brazil have shown that honeybees can survive exposure to high concentrations of the fusion protein, and that it has no effect on the bees' learning and memory, so doesn't disrupt foraging. This is in apparent contrast to neonicotinoid pesticides; a growing body of evidence suggests that residual concentrations of these compounds can impair bees' ability to forage, leading the European commission to suspend their use last year.
The fusion protein consists of a calcium channel blocker derived from spider venom, ?-hexatoxin-Hv1a, linked to a lectin protein, derived from the snowdrop plant, that acts as a 'carrier'.
'We started off with some very high dose toxicity tests, exposing bees to a massive amount of the toxin,' explains team member Geraldine Wright of the University of Newcastle in the UK. 'Basically it does not cause significant mortality.' The team then carried out a behaviour assay, in which bees are tethered and exposed to a floral scent. When the animals extend their feeding tube – the proboscis – they are rewarded with a sugar solution. Once this behaviour has been learned, the bees automatically extend their proboscis when presented with the scent – similar to the conditioning Pavlov exploited with his dogs. The researchers showed that exposure to the fusion protein did not impair this learned behaviour.
'This seems to suggest that in bees the fusion protein does not act upon the calcium channels of the neural membranes as it does in other insects,' says Wright. 'We know that there are differences in the protein sequences of these channel receptors between different insects, so this gives rise to the possibility of specificity.' Neonicotinoids, by contrast, act on acetylcholine receptors, which are broadly similar between species.
Pierre Escoubas, the founder of the French firm VenomeTech, which develops therapies based on venoms, says the new study 'demonstrates safety for bees and is therefore a great step forward towards developing ecologically friendly, safer and more targeted pesticides that may help in safeguarding bees.'