States will forgo the $650m civil penalty in favour of victims
The Japanese air bag maker Takata has reached a $650 million (£467.5 million) settlement with the attorney generals of 44 US states and the District of Columbia to resolve a multistate investigation into the company's failure to disclose known safety defects in some of its airbag inflators. At issue is Takata's use of phase-stabilised ammonium nitrate (PSAN) as a propellant.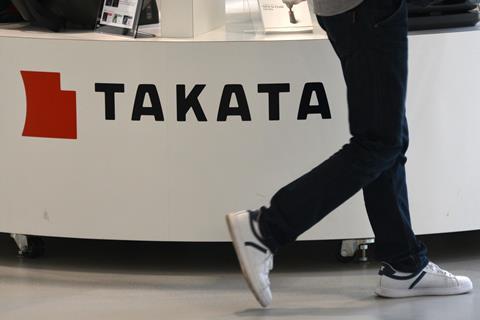 In response to ruptures upon airbag deployment, car companies started issuing recalls of vehicles with these airbag inflators in 2008. They have recalled more than 50 million airbags in over 37 million vehicles, with more recalls anticipated. Ultimately, the total number of affected airbags will be around 65 or 70 million, South Carolina Attorney General Alan Wilson stated when he announced the settlement with Takata's US subsidiary TK Holdings on 22 February.
The PSAN used to inflate the airbags will degrade over time upon exposure to heat and humidity, especially in warmer and wetter areas of the US. As a result, the inflator could rupture explosively once deployed, obliterating the metal casing surrounding the propellant and resulting in shrapnel raining down on the vehicle's passenger cabin. This flaw has so far led to at least 20 deaths globally, and hundreds of injuries as well, according to Wilson's office.
'Ammonium nitrate is a really bad player, it always wants to recrystallise and it is very, very susceptible to moisture – it is not stable,' explains Paul Worsey, an explosives engineering expert at the Missouri University of Science and Technology who works almost daily with the compound.
Chemicals placed inside airbag inflators are typically in the form of a small tablet or pill, whose structure is supposed to stay intact. However, with prolonged exposure to heat and humidity, ammonium nitrate will eventually disintegrate into a fine powder that burns too fast.
'The reason that they wanted to use ammonium nitrate is because it was cheap,' Worsey states. The company put the compound in a pill press and created ammonium nitrate pills to put inside the airbag generator.
However, ammonium nitrate cycles through five solid states, and as a car goes up and down in temperature, those fluctuations are sufficient for the compound to change from one phase to another. Eventually, it turns into powder and the material can burn too quickly, creating an unnatural spike in pressure.
Pressure peak problems
'It gets consumed much more quickly, and then you have then a big peak in pressure and if the safety is not there then the combustion chamber will rupture,' Worsey continues. 'Then you would have fragments coming out from the container, and the passengers can get badly injured and bleed out.'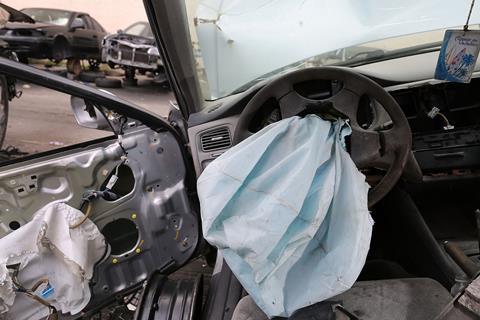 Instead of ammonium nitrate, he suggests that Takata could have used more expensive alternatives like solid propellants. 'Whenever something has to have a good shelf life, the material that makes it up also has to have a good shelf life, and trying to tamper with the chemistry is going to come back and bite you in the end,' he tells Chemistry World.
The states who brought the case against Takata have decided to forgo the $650 million civil penalty in order for the victims of the company's faulty air bag inflators to benefit as much as possible financially. 'Since the company has filed for bankruptcy protection and cannot pay its debts, the multistate agreed not to collect this civil penalty in order to maximise the recovery available to consumers who were the victims of this airbag defect,' Wilson's office stated.
However, Takata has agreed to reimburse South Carolina – the lead state in the case – almost $140,000 for investigative costs. Further, the company vowed to continue to cooperate with auto manufacturers to make replacement airbag inflators available as quickly as possible.
Also under the settlement, Takata agreed not to represent its airbags as safe unless supported by 'competent and reliable scientific or engineering evidence', and not to falsify or manipulate testing data, or provide any testing data that is knowingly inaccurate.
The US Justice Department ruled in January 2017 that Takata 'repeatedly and systematically' falsified critical test data related to the safety of its nitrate products. At the time, the company agreed to plead guilty to wire fraud and pay $1 billion in criminal penalties stemming from its fraudulent conduct involving the sales of its defective airbag inflators.
Ultimately, however, the new settlement agreement may not amount to much. 'I don't know if this settlement resolves anything,' Worsey says. 'At the end of the day, trying to replace all of these things, they will go belly-up anyway, unless they have got a huge pocket somewhere.'