The UK's scientists have missed out on £1.5 billion in Horizon 2020 funds since the country voted to leave the EU in 2016. Campaigners say that the figures reveal the extent to which Brexit uncertainty damaged collaborations between UK researchers and their colleagues across Europe.
Before the Brexit vote in June 2016, the UK was the joint-most successful nation in terms of winning European research grants alongside Germany. But over the last five years the UK's share has plummeted, with the country's researchers receiving around €400 million (£345 million) less in 2020 than in 2016, according to an analysis by the campaign group Scientists for EU. That puts the UK in fifth place, behind France, Spain and Italy. Germany retains its top place, receiving €1.7 billion last year.
According to the Scientists for EU analysis, had the UK kept pace with Germany, the nation's researchers would have won an additional £1.5 billion over the last five years. But the threat of a 'no deal' Brexit and uncertainty over the UK's relationship with the EU made UK-based researchers higher risk partners on potential funding applications.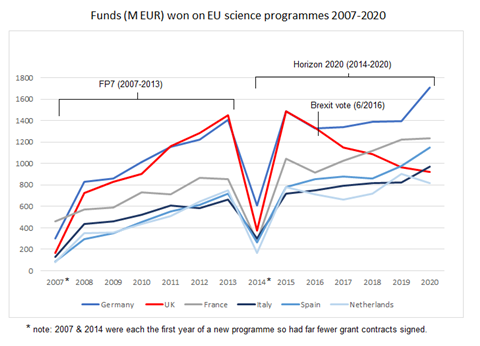 'Looking ahead, UK science will want to regain quickly its leading role on the European science programme,' said Scientists for EU director Mike Galsworthy. 'Brexit uncertainty over five years has knocked the UK's position down several rungs and blown a huge hole in our funds and networks.'
'The damage from five years of Brexit uncertainty and antagonism has been immense for our researchers so used to being able to collaborate with their colleagues all over the continent,' said molecular biologist Anne Glover, a Scientists for EU supporter who serves as the current president of the Royal Society of Edinburgh and was chief scientific adviser to the European commission from 2012 to 2014.
'Boris Johnson talks of the UK being a "science superpower" but this will only be achieved by an appreciation that he has a huge amount of recent vandalism to undo on the way back to any such international position,' she added.

Jamie Durrani is senior science correspondent for Chemistry World. He reports on the latest chemistry research and related topics including environment, energy and science policy.
View full profile