Pfizer has moved to stop its drugs being used for executions by imposing strict distribution controls that will stop them reaching execution chambers across the US. This means that all US Food and Drug Administration (FDA) approved manufacturers of potential execution drugs have blocked their sale and use for the death penalty in the US.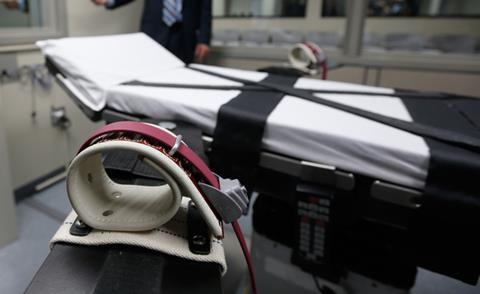 In a statement, Pfizer says it 'makes its products to enhance and save the lives of patients' and 'strongly objects to the use of its products as lethal injections for capital punishment'. It will now introduce a new monitoring system to ensure that its drugs do not end up being used in executions. Pfizer will enforce distribution restrictions on pancuronium bromide, potassium chloride, propofol, midazolam, hydromorphone, rocuronium bromide and vecuronium bromide, selling them only to 'select' purchasers under the condition that they will not resell them for use in lethal injections. Government purchasing entities must certify that products are not for any penal purposes.
The human rights organisation Reprieve hailed the move as a critical turning point in the history of capital punishment in the US, reflecting widespread unease about the use of lethal injection, and raising fundamental questions about the administration of the death penalty. 'Pfizer's actions cement the pharmaceutical industry's opposition to the misuse of medicine,' comments Maya Foa, director at Reprieve. 'Over 25 global pharmaceutical companies have now taken action to prevent the misuse of their medicines in executions.'
'It's very significant that the pharmaceutical industry is speaking with a unified, singular voice saying we don't want our products used this way and actually taking steps to ensure that they aren't,' says Megan McCracken, a lawyer at the Death Penalty Clinic at the University of California, Berkeley, School of Law in the US.
It has been getting increasingly difficult for states to obtain lethal injection drugs. This has driven US states to seek alternative, and in some cases illegal, sources for these drugs, and has caused legal challenges in numerous states. Meanwhile, countries around the world have blocked the use of drugs in lethal injection. Some states have resorted to using unapproved manufacturers from countries such as India or obtained them from 'compounding pharmacies', which mix or alter drugs but whose products are not FDA-regulated. Many states have put laws in place that prevent or prohibit the disclosure of information about the source of drugs and how they're obtained. According to the Death Penalty Information Center, lawsuits have been brought in Texas, Georgia, Arkansas and Missouri to try to force states to identify drug suppliers.
Now, says Foa, instead of passing secrecy laws intended to undermine the safeguards put in place by drug companies, it is up to the states 'to respect the legitimate commercial interests of the pharmaceutical industry and agree to stop misusing their medicines in lethal injection executions'.