Executive actions and industry commitments aim to speed up adoption of alternatives to hydrofluorocarbon greenhouse gases in refrigeration and air conditioning
The US government has partnered with industry to reduce greenhouse gas emissions and spur a global phasing out of hydrofluorocarbons (HFCs), which are used in air conditioning and refrigeration.
On 16 September, the Obama administration announced new executive actions and private sector commitments and that aim to reduce global HFC consumption by the equivalent of 700 million tonnes of carbon dioxide by 2025. The scheme has backing from the Air Conditioning and Refrigeration Institute – an industry association representing 90% of US air conditioning manufacturing and 70% of the global industry. Without such action, the White House estimates that HFC emissions will nearly double by 2020, and triple by 2030.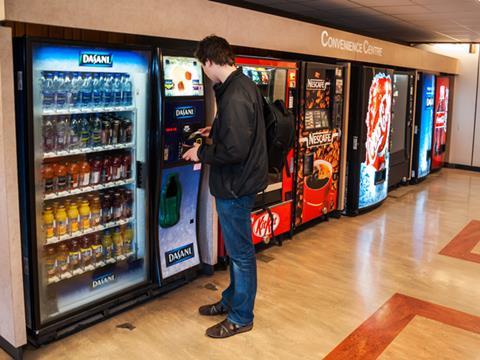 Achieving these goals mostly means replacing existing HFCs with products with lower global warming potential (GWP) – a measure of how much heat they trap in the atmosphere. One of the biggest contributors is HFC-134a (1,1,1,2-tetrafluoroethane), which persists for years in the atmosphere and has a 100 year GWP 1430 times that of CO2. By contrast, hydrofluoro-olefin (HFO) alternatives have lifetimes measured in days and GWPs less than or equal that of CO2.
Chemical giant DuPont's HFC alternatives include automotive refrigerant HFO-1234yf (2,3,3,3-tetrafluoropropene), as well as foam blowing agent HFO-1336mzz (cis-1,1,1,3,3,3-hexafluorobutene). The firm estimates that these products will reduce the greenhouse gas content of refrigerants by 90 million tonnes carbon dioxide equivalent in the US, and 245 million tonnes worldwide by 2025.
Meanwhile, Honeywell anticipates spending over $880 million (£538 million) on R&D and new manufacturing capacity in this area, mainly in the US. The company's range includes HFO-1234yf for automobile air conditioning; HFO-1234ze (trans-1,3,3,3-tetrafluoropropene) as a solvent, propellant and blowing agent; and HFO-1233zd (trans-1-chloro-3,3,3-trifluoropropene) as a solvent.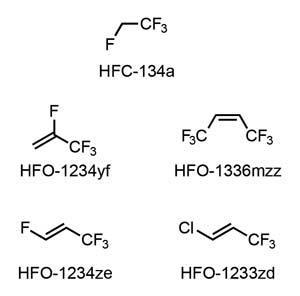 In addition, Arkema has committed to reducing greenhouse gas emissions from its operations by an additional 30% by 2020. The company is investing in climate-friendly refrigerants and foam blowing agents, including HFO-1233zd.
But not all observers are impressed. 'For the most part, these commitments by chemical manufacturers are not new, nor are they being made for the sake of the environment,' says Keilly Witman, owner of the Washington, DC-based KW Refrigerant Management Strategy consulting company.
'These companies are in a race with each other to bring patented, high-priced, low-GWP refrigerants to market to satisfy end users' growing demand for climate-friendly alternatives,' Witman tells Chemistry World. 'They are going to profit tremendously from the move, just as they profited tremendously during the phase-out of CFCs and HCFCs.'
On the government side, the US Environmental Protection Agency intends to further smooth the transition to climate-friendly HFC alternatives. The agency is expanding the list of alternatives to both ozone-depleting substances and high-GWP HFCs, and identifying ways to reduce HFC emissions from air conditioning and refrigeration equipment.
Monopoly concerns
There had been concern about a potential monopoly in alternatives if HFCs were withdrawn too quickly. At issue was potentially anti-competitive behaviour involving production of HFO-1234yf. The main producer was a Honeywell–DuPont joint venture announced in 2010, and a new plant was due to come online next year.
Arkema had argued that it owned proprietary technology to make HFO-1234yf but couldn't pursue it commercially because Honeywell and DuPont own most of the relevant patents in the US and Europe.
But Honeywell and DuPont now say concerns about a potential monopoly are no longer valid because their joint venture never materialised, and they now market and sell the product in competition with each other.
In 2011, the EU opened an investigation examining whether DuPont and Honeywell were breaking competition rules by unfairly witholding manufacturing licences. That investigation is ongoing, as is a separate one by the US Federal Trade Commission.
Meanwhile, the chief executive of Arkema's US unit, Bernard Roche, emphasised that 'a global approach' is needed to maintain 'a level playing field' with respect to phase-down of these materials and products, and to provide certainty and consistency across markets and uses.
'This is especially important when it comes to the automotive sector,' Roche said in a statement. He noted that global annual new car sales are projected to exceed 100 million units in 2018, most of which will be equipped with air conditioning. Roche warned that experts are rightly concerned about the need to assure adequate supplies of HFO-1234yf for these millions of new cars.
Witman echoes that unease. 'There is concern that, even if these companies can bring substitute refrigerants to the market, they wouldn't be able to deliver them in large enough volumes to meet the demand,' she says.
The timing of this announcement, which came just ahead of the United Nations Climate Summit in New York City on 23 September, indicates that the US intends to press for an amendment to the Montreal Protocol – the international agreement established in 1987 to control chemicals that deplete atmospheric ozone. Last year, the US and China agreed to work together to phase down use and production of HFCs, and the concept was endorsed by leaders of the G20 nations.
'The combination of these corporate commitments and the President's executive orders to promote the use of HFC alternatives in the federal government represent the strongest effort made to date toward an accelerated phase-out of HFCs,' says Ross MacWhinney, a greenhouse gas accounting expert with consultancy firm Verdantix.