For this month's Book Club podcast, it's a highly unusual review scenario, as we get to grips with Superheavy: Making and Breaking the Periodic Table, written by none other than Kit Chapman (yes, the very same Kit Chapman who was, up until recently, Chemistry World's cosplay-loving Comment editor).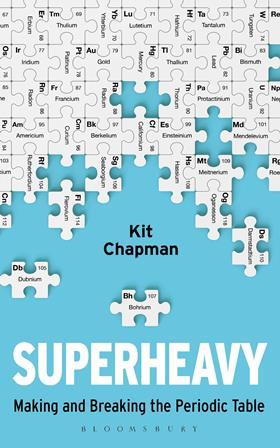 We were in the privileged position to hear about Kit's book from almost the moment he decided to write it. This, perhaps unsurprisingly, was a task which required him to travel around the globe in search of answers to some of chemistry's greatest questions: where do elements actually come from and how are they made? And: what happens when what we know about the periodic table turns out to be…well…less right than we thought it was?
In Superheavy, Kit weaves the complex history of element discoveries with the narratives of the people behind them, taking us through decades of debate and differing opinions. From particle accelarators to strange experiments and the politics of national pride, it's an accessible read for everyone from career chemists to avid, curious readers.
We've obviously done our best to review Kit's book objectively (honest!), but for an even more objective opinion, feel free to read Phil Ball's review of the book.
Next month, Emma Stoye and Co celebrate a hundred years since the birth of Primo Levi, the man behind one of chemistry's masterpieces: The Periodic Table. Originally published in 1975, this collection of short stories – inspired by Levi's own experiences as a chemist in faschist Italy during the second world war – continues to capture the hearts and minds of chemists to this day.
We want to include you, the Chemistry World reader, in the conversation so tweet your thoughts to @ChemistryWorld, or use the hashtag #BookClubCW and we'll endeavour to include your opinions (or questions) in the podcast.