A few weeks ago, WeylChem commissioned a new multi-purpose plant for aromatic ring chlorination at its site in Frankfurt-Höchst, Germany. The company has invested over €7 million (£5.8 million) in the largely automated, step-chain-controlled system, which, in addition to its primary task of aromatic chlorination, can also hydrolyse the products of the existing sidechain chlorination plant. This creates additional capacities for sidechain-chlorinated derivatives. Following the start of the Halex operation in Frankfurt-Fechenheim last August, this is the second state-of-the-art production facility WeylChem has established in Germany within a few months.
These two projects form part of a broader initiative by the company to expand its multi-purpose infrastructure. Within this framework, the group also recently inaugurated a new facility at its French site in Lamotte. This investment of another €7 million significantly enhances the site's flexibility and capacity in synthesizing modern, complex and even corrosive molecules.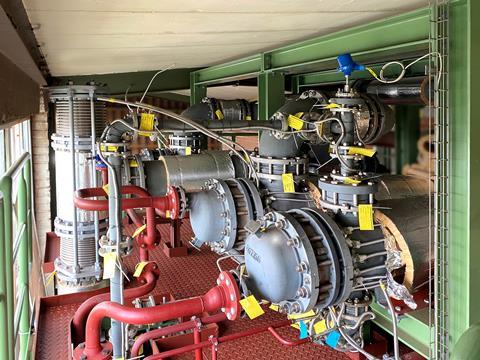 The project consisted of a comprehensive overhaul of an existing production line, adding key elements such as an acid-proof 4m2 Hastelloy filter dryer, a thin-film evaporator and a 10m3 stainless steel reactor. As a result, temperatures of up to 200°C and a service pressure of up to 8 bar can now be reached. A high level of automation, including the use of robotic elements, allows for even greater efficiency.
Focus on sustainability
'The new ring chlorination excellently complements our overall concept, technically and economically,' says David Crouse, operations manager at the Frankfurt Höchst site. 'This not only enables us to support existing customers more comprehensively, but also to react to short-term market needs in the future.'
The sustainability factor played a major role in designing the process. Low-boiling components are further processed and high-boiling components are thermally recycled. The large amounts of hydrogen chloride gas produced during chlorination are recovered as high-purity 30% hydrochloric acid.
This results in a large number of chlorinated and fluorinated products, as well as mixed chlorine–fluorine compounds with almost limitless potential

Michael Badine, head of technical marketing, WeylChem
As in sidechain chlorination, these are anhydrous processes. The required thermal energy comes from internal heat recovery measures. Energy flows that cannot be used for heat recovery are distributed by an intelligent circuit in such a way that only minimal heating or cooling is required.
Integrated value chain
The combination of chlorination and Halex, just a few kilometers apart in Frankfurt, is particularly exciting. In Frankfurt-Höchst, WeylChem can now chlorinate directly on the aromatic ring or alternatively the sidechains of the aromatic ring and replace the chlorine atoms with fluorine atoms in the Fechenheim district.
'This results in a large number of ring-chlorinated, sidechain-chlorinated and ring-fluorinated products as well as a range of mixed chlorine–fluorine compounds with almost limitless potential combinations,' says Michael Badine, head of technical marketing at WeylChem. 'The associated short transport routes are particularly interesting for European customers.'
Chlorinated compounds are useful as building blocks or intermediates in the synthesis of a wide variety of end applications such as agrochemical and pharmaceutical active ingredients, and also paints. The chlorine atom can be used as a reactive group or be present in the end compound. Fluorinated aromatic molecules are also valuable intermediates in chemical synthesis.
International initiative
Uwe Brunk, president of the WeylChem Group of Companies, says: 'The three projects: Halex, ring chlorination and Lamotte expansion represent a total investment volume of almost €25 million. In this way, we are strategically expanding our capacities and strengthening our ability to accompany our customers in a long-term partnership and to support them in setting up robust European supply chains.'
Contact:
Michael Badine, head of technical marketing