A bioinspired smart material that swells and contracts could be used to make optical lenses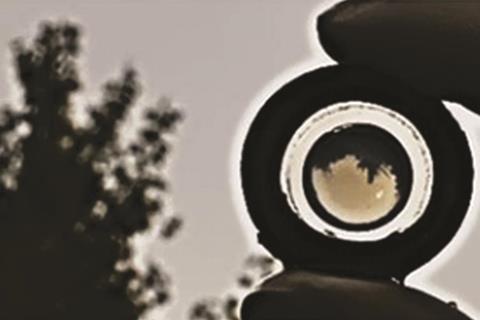 Scientists in China have designed a biocompatible hydrogel based on the bilayer structure of plant organs. The material, which can swell and contract in response to pH changes, could be used to make optical lenses.
Plant organs like pine cones and wheat awns have inspired scientists to design smart materials that can undergo 3D shape transformations in response to external triggers, such as pH changes. However these materials are often made from synthetic polymers, which can limit their biocompatibility.
Now, a team led by Lina Zhang at Wuhan University, China, has made a bioinspired smart hydrogel from two layers of natural polymers – chitosan (derived from shrimp shell chitin) and cellulose/carboxymethylcellulose (from plant cell walls). The two layers are held together by covalent bonds and electrostatic interactions between negatively charged carboxylate groups and positively charged ammonia groups, which make the material respond to pH changes.
The hydrogel's bilayer structure resembles that of plant organs; by changing the material's shape and size, the team can make different reconfigurable shapes with different movements in response to pH changes. Unlike many other smart materials, both layers are active in this hydrogel when responding to pH, so a strip of the hydrogel can bend both ways.
Inspired by the focusing strategy of the human lens, which changes shape to focus on near and distant objects, Zhang's team used their smart material to make a biomimetic transparent lens whose focus can be tuned by the swelling and contracting of the bilayer hydrogel. The researchers attached two caps made of chitosan on either side of a cellulose/carboxymethylcellulose disc. At high pH, the disc swells and the caps shrink, flattening the lens, whereas at low pH, the disc shrinks and the caps swell, leading to a rounded shape.
Jun Fu, an expert in hydrogels for biological applications from Ningbo Institute of Material Technology and Engineering, China, says that 'it is very interesting that such bilayers could be assembled into structures with different configurations – the key lies in the opposite charges of the natural origin polymer layers and the charge changes at different pH values'. Fu can imagine that 'the bilayers based on natural polymers, rather than other synthetic polymers, may be more amenable for biomedical applications such as biomimetic lenses or implantable biosensors or artificial muscles'.
References
This article is free to access until 25 January 2017
J Duan et al, Soft Matter, 2017, DOI: 10.1039/C6SM02089E