New Hydrogen Council will promote alternatives to fossil fuels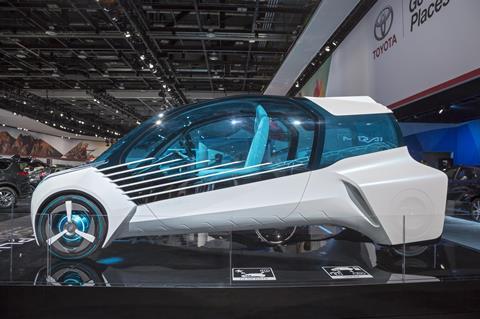 Thirteen global car and energy companies have teamed up to promote hydrogen as a clean fuel, which can power the world toward its goal of decarbonising its energy supply.
Hydrogen technology is well understood but for it to work on the global stage it can't be enacted piecemeal, according to the Hydrogen Council, which was launched this week at the World Economic Forum in Davos. Together, the companies are investing around €1.4 billion (£1.1 billion) annually in hydrogen, but governments need to factor hydrogen into policy and regulatory frameworks, says Pierre-Etienne Franc, of industrial gas group Air Liquide, and secretary to the council. The group, which includes Daimler, Toyota, Shell and Total suggests hydrogen can play a role in every sector which currently relies on fossil fuels.
Hydrogen can be produced from the electrolysis of water or by steam reforming of methane. The former is less efficient but could be a way to harness excess renewable energy, which could be stored as hydrogen – providing a buffer for intermittent daily and seasonal electricity generation.
In Germany, in a scenario where 90% of electricity is generated by renewables by 2050, the projected surplus could fuel half the country's cars with hydrogen. Storage demonstrator projects are coming on stream in many parts of the world, and industry already has experience of storing hydrogen underground. The cost of storing hydrogen in underground salt caverns is projected to fall to about one third of the cost of pumped hydro storage by 2030, according to a report commissioned by the council. Hydrogen could also be used for heating. In the UK, a £7 million Ofgem funded scheme to pump hydrogen into Keele University's gas network is due to begin this year.
Presently, most hydrogen is produced using steam reformation of methane which produces carbon dioxide that would need to be captured to make the technology emissions free. While hydrogen produced this way wouldn't be suitable for fuelling vehicles, the Hydrogen Council says carbon capture and storage (CCS) technology in tandem with hydrogen has the potential to decarbonise energy intensive sectors like cement and steel.
Jamie Speirs at the sustainable gas institute at Imperial College London says a hydrogen economy could be 'the saviour for CCS – providing a healthy timeline for investments while other technologies get off the ground'. 'Hydrogen makes a lot of intuitive sense but it's very difficult to say what the whole system will cost,' he adds.
Franc anticipates that putting in an infrastructure for hydrogen fuel cell vehicles – of which there around 3000 worldwide so far – in a country the size of France or Germany would cost around €1.5 billion (£1.3 billion). He points to a joint venture with gas giant Linde, where Air Liquide is working to create a nationwide network of 400 hydrogen fuel stations in Germany which will cost around €400 million, and serve several hundred thousand cars.
Correction: Jamie Speirs affiliation was updated on 23 January 2017
Angeli Mehta is a freelance science writer with a research PhD, based in Edinburgh, UK
View full profile