Pollution research adds to simmering row between Japan and China over disputed islands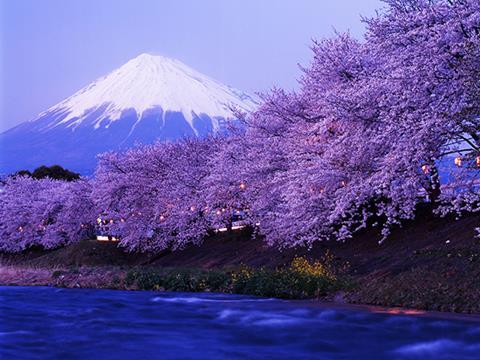 Amid a simmering row between China and Japan over an island territory dispute, new research claims that the atmosphere above Japan's iconic Mount Fuji is being polluted with mercury by Chinese industry.
The research, led by Osamu Nagafuchi, an environmental science professor at the University of Shiga Prefecture, Japan, found that at certain times between 2008 and 2010, levels of atmospheric mercury on Mount Fuji were twice that of background levels.
Normal background levels of atmospheric mercury on Mount Fuji stand at 1.5ng/m3 but can rise to as high as 2.8ng/m3. The Japanese government has set 40ng/m3 as a threshold that poses a danger to human health.
According to Nagafuchi's research, the mercury is very likely to be coming from China. 'The prevailing wind in the northern hemisphere almost always blows from the west,' he tells Chemistry World. 'Therefore, all the things come from the East Asian continent to Japan.'
The 3776m high Mount Fuji has long been venerated by the Japanese for its pristine beauty and as a source of artistic inspiration. It was designated a UNESCO World Heritage site earlier this year.
Chinese origin?
Nagafuchi's research has not yet been published in academic journals, though he and colleagues presented it to the 11th International Conference on Mercury as a Global Pollutant held in July in Edinburgh. Parts of the research have been published in the Japanese book Revived Mt. Fuji Weather Station, 2005-2011.
Japan is frequently hit by earthquakes, which leads to large amount of natural emissions of mercury
In 1999, 1900 tonnes of mercury was released globally. Due to the rapid expansion of China's coal-fired power plant fleet, biomass burning and its mining and manufacturing industry, particularly battery and fluorescent bulb production, China is estimated to contribute 536 tonnes, or 28%, of this total – making it the world's biggest mercury polluter.1 It does not automatically follow, however, that the rising mercury levels on Mount Fuji are definitely from China.
'Mercury has long been recognised as a long-distance airborne pollutant,' says Feng Xinbin, vice director of the Institute of Geochemistry of the Chinese Academy of Sciences. 'Despite this, it is still uncertain whether the pollutant in question comes from China.' Feng adds that his research has identified other sources of mercury pollutants from countries such as India and North Korea. 'Japan is frequently hit by earthquakes, which leads to large amount of natural emissions [of mercury] too.'
Nagafuchi says, however, that higher mercury concentrations are only observed when the wind is blowing from East Asia. When the air mass moves from the Pacific or other local areas the phenomenon was not observed. In addition, he says the widely accepted high correlations between mercury and arsenic, as well as tellurium, can also be observed in particulate matter thought to be coming from East Asia.
Pollution solutions
When this research was reported in early October, Beijing and other northern Chinese cities were covered by thick smog. In spite of this, local media was flooded with angry Chinese netizens' online comments, while Japanese readers registered their protests too.
Presently, there is no bilateral treaty on cross-border pollution in East Asia, although China has sped up its efforts to curb air pollution. After launching a large project to improve air quality in major cities in September, the Chinese central government has now invested Yuan5 billion (£505 million) to help Beijing, Tianjin and neighboring Hebei Province cut air pollution.
Last week, government representatives from 140 countries gathered in the Japanese city of Minamata to sign the Minamata Convention on Mercury to control emissions of the heavy metal.