Research overseen by Nobel laureates will aim to stimulate creativity in young researchers
The Chinese government is collaborating with Nobel laureates to set up labs where young researchers will be able to pursue their research interests with 'minimal interference' from senior scientists and authorities.
We want to get rid of the bureaucracy

Richard Roberts, 1993 physiology or medicine Nobel prize laureate
China is putting forward an undisclosed sum to set up a series of labs, each named after – and closely associated with – a Nobel laureate. The laureate will be responsible for recruiting a local director and supporting them remotely as they handle the day-to-day running.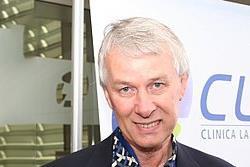 The first of these new labs will be named after the molecular biologist Richard Roberts, who won the Nobel prize in physiology or medicine in 1993 for discovering split genes – genes that aren't a continuous sequence of DNA but separated by significant sections of genetic material. 'We want to set up a new model in which young people have the freedom to pursue their ideas and be as creative as they possibly can,' Roberts tells Chemistry World.
He says that as well as recruiting a 'high quality, capable' scientific director, 'the laureate would also be responsible for making sure the Chinese government and the local senior scientists didn't interfere with the running of the lab, which unfortunately is something that happens a lot in China'.
Roberts' lab will focus on microbiome research – the community of bacteria that inhabit an organism and the contribution it makes to health. He says that he has already recruited a director, and although an official agreement with the Chinese government has not yet been signed, most of the arrangements have been made in principle. 'The plan is to have this lab up and running in the first two or three months of next year, initially in a temporary location,' he says.
Eventually, the labs will be housed in brand new buildings. Roberts says his lab will probably be situated in the country's Guangdong province, while others are likely to be built in the Xiongan New Area within Hebei province. Roberts will remain based in the US where he is a professor at Northwestern University and chief scientific officer at New England Biolabs, but he will provide support remotely and conduct regular visits.
He says the governor of Hebei, Xu Quin, is 'very enthusiastic', and that other figures within the Chinese government have indicated they are prepared to support the new system financially without 'asking too many questions'. 'We want to get rid of the bureaucracy. So far all the conversations we've had with them suggest they're very willing to do that,' he says.
During Roberts' most recent visit to China, Xu told China Daily that officials in Hebei were keen to enlist the help of Roberts and other scientists to build Hebei into 'an innovation hub and a gathering place for top scientists'.
The initial agreement will be reviewed after five years. Roberts is hoping that if it is a success, labs attached to other laureates and high profile scientists will follow, and he adds that similar models would be easy to set up elsewhere.
'We're hoping that this will provide a mechanism to bring some really talented Chinese researchers who have been trained in the west back to China, and into conditions that they're used to as a result of living in the west, and not being stymied by the older Chinese system,' he says. 'The overall idea is one that can really lead to some interesting science coming out of all of this.'