Pain drug trial has left one dead and five hospitalised in France, with little indication as to the cause of the problems
The death of one subject and hospitalisation of five more in a Phase I clinical trial run by contract research organisation (CRO) Biotrial in Rennes, France, have thrown a spotlight on the potential hazards of clinical trials. The subject who died suffered brain damage, and MRI scans have shown up brain lesions in some of the other men. The affected cohort had received the highest dose; one of the six appears not to have experienced these adverse events.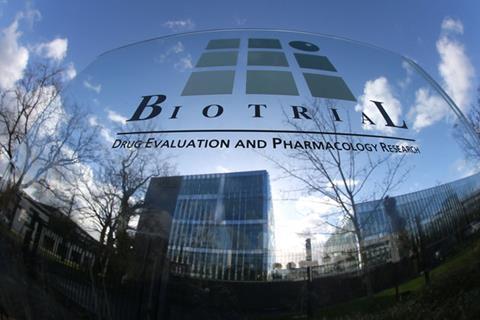 According to the trial's sponsor, Portuguese biotech Bial, clinical investigation began in June 2015. The experimental drug involved, BIA 10-2474, had already been given to 108 subjects without serious or moderate side-effects. As is common for Phase I trials in healthy volunteers, the study was being carried out in a specialist clinical trial unit managed by a CRO.
BIA 10-2474 is a fatty acid amide hydrolase, or FAAH, inhibitor that is being investigated to treat pain. FAAH is an enzyme that breaks down lipid signalling molecules such as the endocannabinoid anandamide. The idea is that by allowing anandamide to build up, the pain-relieving effects of the endocannabinoid system should kick in without the psychoactive effects of cannabis.
It remains unclear what caused the adverse events in the volunteers, and whether it was related to the molecule being tested, the mechanism of action, or an off-target effect. However, several companies have already carried out trials with FAAH inhibitors without incident, including Pfizer, whose PF-04457845 lacked activity in a Phase II trial in osteoarthritis. Merck and Vernalis have also run clinical trials on FAAH inhibitors, and since this incident, Janssen has voluntarily suspended dosing in trials of its drug candidate.
This is the first Phase I trial to hit the headlines since the 2006 TeGenero trial carried out in London, UK, by Parexel. The immune system-stimulating antibody TGN1412 was dosed at 0.2% of the level shown to have no toxic effects in monkeys, yet it still led to multiple organ failure and disfiguring injuries to the six subjects given the antibody.
Since then, changes have been made to the design of Phase I trials to ensure that the time gap between dosing different subjects is sufficiently long for adverse events to occur. Had this happened with TGN1412, it is unlikely that more than one patient would have been affected.
It is not realistic to expect that incidents like the one in Rennes can never occur, says Ben Whalley, professor of neuropharmacology at the University of Reading, UK. 'The aim of the studies is to determine safety and tolerability, and so exposure of any new agent to humans for the very first time will always carry an inherent risk,' he says. However, he adds, every effort should still be made to minimise that risk.
This is the first such major incident in Phase I trials for almost a decade, showing the effectiveness of gathering comprehensive preclinical evidence and the modified trial protocol design, Whalley says. 'About 8,000 trials are conducted each year, of which 20–30% are Phase I trials where people are exposed to a new drug for the very first time,' he says. 'Given the number of trials that are conducted and the incident rate, that's not a perfect track record, but it is certainly very good given that all risk can't be eliminated.'