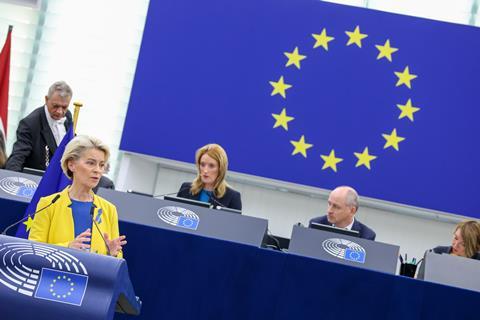 The European commission has proposed legislation to secure the supply of crucial minerals such as lithium and rare earth elements (REEs) to the EU.
The European Critical Raw Materials Act was announced by Ursula von der Leyen, commission president, during her state of the union address earlier this month.
She noted that almost 90% of rare earths and 60% of lithium are processed in China. 'Lithium and rare earths are already replacing gas and oil at the heart of our economy,' she said. 'By 2030, our demand for those rare earth metals will increase fivefold.'
She added that the EU will identify strategic projects all along the supply chain, from extraction to refining, from processing to recycling, and will build up strategic reserves. Part of the answer will involve building new trade partnerships based on shared values.
The commission first drew up a list of 11 critical raw materials in 2011, updating the list every three years, with 27 materials on the 2017 list and 30 in 2020.
The main factors influencing inclusion are economic importance and risk of supply disruption. For example, the 2020 list noted 85% of niobium came from Brazil, 92% of iridium from South Africa and 93% of magnesium from China.
Russia ripples
The Russian invasion of Ukraine and its subsequent political leveraging of Europe's reliance on Russian hydrocarbons spooked many countries, and placed renewed focus on the reliability of supply for critical resources. Russia used to account for 40% of gas imports to the EU, but it is now down to 9% of pipeline gas, von der Leyen noted. 'Russia keeps on actively manipulating our energy market. They prefer to flare the gas than deliver it.'
Rare earths are used in permanent magnets, critical for electric vehicles, digital technologies and wind turbines, and demand has been predicted to increase tenfold by 2050.
Electric storage batteries are expected to increase demand for aluminium, cobalt, lead, lithium, manganese and nickel, according to the World Bank. Metal use has also been forecast to increase from 8 billion to 20 billion tonnes in 2060. Meanwhile, the commission has noted that 'the EU is between 75% and 100% reliant on imports for most metals'.
'The whole energy crisis is now painfully illustrating that being dependent on another country is problematic,' says geologist Anouk Borst at the KU Leuven University in Belgium. 'It will speed up the energy revolution [with a switch to renewables] but also highlight that we don't have access to those metals needed to make a green energy revolution happen.'
European countries operate few mines, and even when mines are planned, local objections often gain political support and stop them from opening. Plans to extract rare earths in Greenland were stymied, when a new government was elected partly on the promise of blocking the mine. Greenland has one of the largest undeveloped deposits of the metals.
Meanwhile, Borst is skeptical that an REE mine will go ahead in Sweden. 'Locals tend not to want mining in their neighbourhood. So even though there are good deposits around in Europe, they just don't get mined, or it takes too long,' she explains.
Chinese import dependence
Europe remains extremely reliant on imports of rare earths and lithium from China, where they are processed. 'We want to avoid future problems by being dependent on certain countries for raw materials, so diversifying the supply chain is important,' says Borst, 'not just in terms of mining, but also we need more processing plants and magnet producers in Europe, or at least in countries which Europe has a stable relationship with, such as Australia.'
Processing REEs is challenging 'because the 16 elements [the lanthanides plus yttrium] sit together in the same mineral and are very difficult to extract and separate', notes Borst, something that China has specialised in.
In her speech, von der Leyen namechecked new agreements with Chile, Mexico and New Zealand, and noted negotiations were at an advanced stage with Australia and India.
'This started before the war in Ukraine,' says Charles Lichfield, deputy director of the GeoEconomics Center at the Atlantic Council. 'With Covid, we realised we had all sorts of dependencies on unfriendly countries and the moment there's tension, because of a pandemic or political event, those dependencies could be leveraged against us.'
Little has happened in Washington DC, London or Brussels yet in terms of a policy responses though, he observes. 'What's going on is that they realise that there is a problem. And they put together these ad hoc talk shops to talk through the problem and make sure information is shared.'
He adds that 'for policy makers, they are just realising these problems, mainly due to price spikes and supply chain difficulties'. This came to the fore during the pandemic, when there was a spike in demand for certain products and production shutdowns in China.

I am a freelance science journalist based in Dublin, Ireland. I cover a variety of topics in chemical and biological sciences, as well as science policy, health and innovation.