Criminal investigation launched as more than a thousand drug cases may need to be re-examined
New revelations that a chemist at an Oregon state forensics lab appears to have tampered with drug evidence have led the state's governor to launch an investigation. The work of another forensic chemist in the same state is also being examined with authorities alleging that he overstated the strength of evidence in criminal cases. The questions raised about these forensic chemists cast doubt on the integrity of more than a thousand criminal cases in Oregon.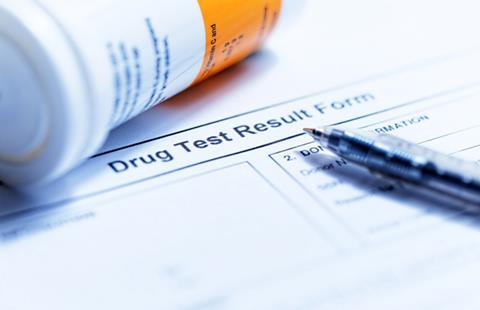 On 18 September, the Oregon State Police (OSP) announced it was investigating a forensic scientist, Nika Larsen, working at its Bend Crime Laboratory. She allegedly altered drug evidence. After Larsen came under suspicion in August, she was placed on administrative leave.
'The evidence shows that she would take drugs and other items from the samples she was testing and replace them with over-the-counter drugs,' says John Hummel, the district attorney (DA) for Deschutes County, Oregon.
Larsen analysed evidence in around 1500 criminal cases, 502 of which were in her jurisdiction, Hummel notes. 'We will pull out the convictions and assess whether her analysis of the evidence impacted the results,' he states. 'If we think it did, then we will talk with defence counsel.'
Forensic misdeeds
Larsen has neither been arrested nor charged with a crime, but Hummel says his office has not completed its investigation. 'We certainly see much evidence there to prove a crime,' Hummel tells Chemistry World.
Meanwhile, another Oregon state forensic scientist is also in hot water. Earlier this month, an analyst who had worked at the state's Central Point Laboratory, Jeff Dovci, came under scrutiny. He had testified in 2005 during a criminal trial, and the subject was convicted of five counts of aggravated murder, three counts of attempted aggravated murder and two counts of first degree murder.
Those convictions were overturned by Oregon's supreme court in 2012 for reasons unrelated to Dovci's testimony. However, material was uncovered in December 2013 that included potentially exculpatory information related to the case and some documents came to light that cast doubt on Dovci's testimony. The OSP did an internal investigation and determined that Dovci had 'engaged in puffery, overstated scientific findings and minimised the things that may have hurt the state's case', Hummel recalls.
The Oregon Innocence Project has reviewed two cases that Dovci worked on and concluded that they were still sound. Hummel says he agreed, and those two convictions stand.
Dovci retired from the Central Point lab in 2013 after a 25-year career in state law enforcement. He has since founded his own forensics consultancy.
Aliza Kaplan, cofounder of the Oregon Innocence Project and a law professor at Lewis & Clark College in Oregon, said that it is unclear whether the OSP's investigation of Dovci had examined all of his analyses. 'It seems like a small number of cases that they have singled out,' she tells Chemistry World. Her organisation is interested in Dovci's entire body of work.
'I am not saying that anyone is innocent, but when you learn something like this there is always the potential of … people being wrongfully convicted because of trouble in the crime lab,' Kaplan says. She is calling for a review of the science in all the cases that Larsen and Dovci have ever been involved with.
Winds of change?
Concerns over US forensic drug labs are not new. In the last few years, several serious malpractice cases at US forensic crime labs have surfaced, many of which led to the arrest of chemists and resulted in hundreds of convictions being thrown out. The most famous such example is chemist Annie Dookhan, who worked at a Massachusetts state lab's drug analysis unit
She was shown in September 2012 to have falsified thousands of drug tests and was sentenced to three to five years in prison in November 2013. It is estimated that her actions could lead to thousands of retrials.
Over the last decade, various crime lab scandals have plagued 19 other US states besides Oregon, as well as the US Federal Bureau of Investigation, according to Kaplan. She expresses hope that the recent public concern generated in Oregon will be sufficient to affect change in her state.
Hummel agrees and says that if the science at the centre of forensic crime labs continues to be put under the control of the prosecution that tips the scales inappropriately. 'This is a chance, a moment in Oregon, where we can review our crime lab operations … and come out with updated policies, procedures and controls.'