Chancellor also commits funding for technical education and disruptive technologies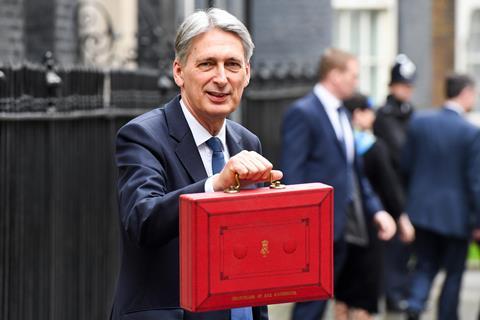 Phillip Hammond has announced £90 million to fund 1000 new PhD studentships as part of his first Spring Budget as UK chancellor, along with a £270 million investment in disruptive technologies such as robotics and driverless cars from R&D funds pledged in 2016's Autumn Statement.
Around 85% of the new PhD placements will be in science, technology, engineering and maths, and another £210 million has been set aside for new fellowships. The chancellor also announced a £500,000 annual investment in new vocational technical training courses for 15–19 year olds that will enable faster access to careers in industries such as engineering and manufacturing. The additional funds will support a 50% increase in the number of hours of training for technical students to 900 hours per year.
Sarah Main, director of the Campaign for Science and Engineering group, said the announcements were 'good news for science'. 'Complementing investments in R&D with a focus on technical skills and PhD level training is a welcome move. Science and engineering organisations have been highlighting shortages in technically-skilled staff for many years,' she said in a statement. 'The government's reforms of technical education provide a ray of hope for our scientific companies, so it will be important to ensure the reforms are sufficiently resourced, seen to completion and aligned with the industrial strategy in order to deliver on that hope.'
She added that the government 'must ensure its immigration policy works in harmony with its aims', a view shared by John Holman, president of the Royal Society of Chemistry. 'Funding that supports the breadth of science from fundamental, curiosity-driven research through to strategic and applied research will enable the delivery of new technologies and economic growth across the UK,' Holman said in a statement. 'However, alongside investment, researchers from outside the UK need clarity on the future arrangements that will allow them to live and work in the UK.'