Autumn Statement earmarks extra £2.3 billion in 2021 to help reach goal of 2.4% of GDP spent on R&D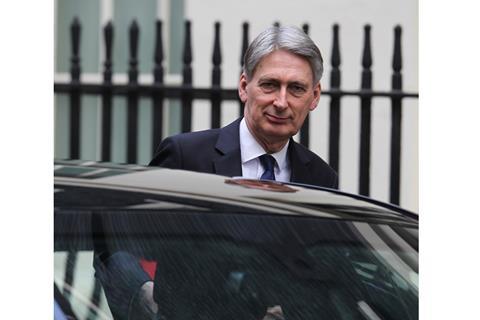 The UK chancellor, Philip Hammond, has pledged to extend spending on research as part of a drive to boost public and private R&D investment to 2.4% of GDP in the next 10 years. The aim is to reach similar levels of spending as other developed nations. Yesterday's budget confirmed that the National Productivity Investment Fund, announced last year, would be expanded to provide a further £2.3 billion investment in R&D in 2021–22. Last year's autumn statement had pledged an extra £4.75 billion for R&D over the next four years to 2021.
Pre-empting the budget, the prime minister, Theresa May, said on Monday that the extra £2.3 billion would bring public R&D spending to £12.5 billion in 2021–22. It's not clear what is included in that headline figure, as it adds just half a billion to the £12 billion already allocated for R&D in the preceding year.
The chair of the House of Commons science and technology committee, Norman Lamb, said 'the chancellor's plans are a tentative move in the right direction, but much more is needed'. The committee had urged him to increase spending by at least £2.4 billion a year within the next 10 years to allow the UK to reach the Organisation for Economic Co-operation and Development average. Yesterday's announcement, he added, meant another £1.9 billion a year still needed to be found between 2022 and 2027.
Industry money wanted
Business is going to have to invest much more heavily in R&D if the UK is to meet the 2.4% of GDP target. The Campaign for Science and Engineering (Case) estimates business would have to increase spending by £8 billion a year by 2027. To encourage this investment Hammond announced that R&D tax credits would increase from 11% to 12% from January next year.
The measure was welcomed by the Chemical Industries Association, which had written to the chancellor to voice its concerns that current R&D incentives do not 'do enough to encourage the domestic production of innovative new products, which means that the UK economy is often deprived of the value added and jobs that new products can generate'. It said this was an especially important consideration post-Brexit.
Official figures published on Tuesday show that the chemical industry has sharply increased R&D spending from £665 million in 2012 to over £1 billion in 2016.
Where some of the extra public money will go, should become clearer next week with the publication of an industrial strategy white paper. This will tackle what the government sees as 'big opportunities' to advance technologies such as artificial intelligence (AI) and clean energy. Yesterday's budget committed £75 million to AI, creating new AI fellowships and funding for 450 PhDs.
Cleaning-up growth
John Holman, president of Royal Society of Chemistry, said implementing the strategy provided an 'opportunity to commit support to cross-cutting areas of research and innovation that underpin disruptive technologies with the potential to boost growth'. Research into advanced materials, he added, 'has the potential to contribute to ground-breaking developments in clean growth and healthy ageing', areas the government has already identified. Its clean growth strategy envisages research to promote a shift to low carbon transport and clean power. £460 million is earmarked for research into new nuclear fuels, and recycling and reprocessing of waste. Efforts to improve air quality also received £220 million and would be funded by increasing taxes on new diesel cars from next year.
But Holman urged that a balance be struck 'across core subjects and interdisciplinary areas, as well as funding for both curiosity-led and challenge based approaches'.
Case director Sarah Main echoed that sentiment, pointing out that challenge led funding, which involves industry in commercially focused research, is 'relatively untested' and should be monitored to ensure it is well spent. The government should 'grow the UK's tried and tested funding mechanisms to meet research priorities, as well as political priorities'. From next year a new body, UK Research and Innovation, will oversee the distribution of research funding.
The chancellor also committed to developing the nation's science, technology, engineering and mathematics skills to equip young people to become 'innovators of the future', in part through funding to teach maths. The government also wants to do more to encourage international research talent to work in the UK, by changing immigration rules to enable those identified under its exceptional talent route, to apply to settle in the UK after three years. This would make it quicker for highly-skilled students to apply to work in the UK after finishing their degrees, and cut the bureaucracy involved in hiring international researchers.
Angeli Mehta is a freelance science writer with a research PhD, based in Edinburgh, UK
View full profile