Molecule features rare gallium–arsenic double bond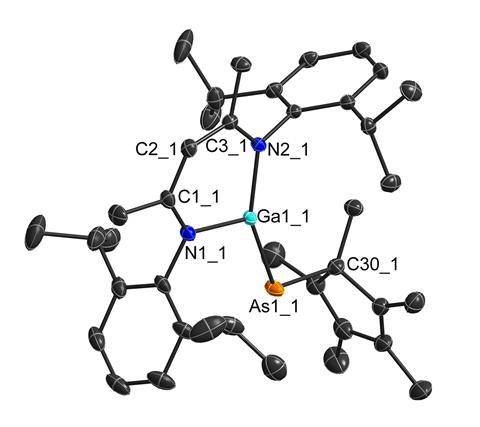 Researchers have made the world's first gallaarsene, the only known compound with a double bond between a single gallium and a single arsenic atom.
While there are many compounds with boron–nitrogen and boron–phosphorus double bonds, the heavier elements of group 13 and group 15 are less inclined to form such connections. Their p-orbitals, which form the double bond, don't overlap as well as in smaller elements. Instead, the heavier element bimetal complexes tend to oligomerise or simply fall apart.
After making the first compound containing a gallium–antimony, Stephan Schulz's team at the University of Duisburg-Essen, Germany, have now made the first monomeric molecule with a gallium–arsenic double bond. The team made the unique gallaarsene by reacting an arsane complex with a gallium(i) carbene analogue. The compound exists as dark red crystals and is stable when kept under the inert gas argon.