Holes in uninspected storage tanks led to leak that contaminated water supplies
The lack of a rigorous inspection programme at Freedom Industries is at least partly to blame for the massive leak of (4-methylcyclohexyl)methanol (MCHM) from a tank at a the company's storage site in West Virginia in January, according to the US Chemical Safety Board (CSB).
The board found no record of a formal, industry-approved inspection performed on any of the speciality chemical company's storage tanks prior to the incident on 9 January.
The CSB – an independent federal agency charged with investigating serious chemical accidents – concluded that the chemical spill resulted specifically from two small corrosion holes in the bottom of the 48,000-gallon tank.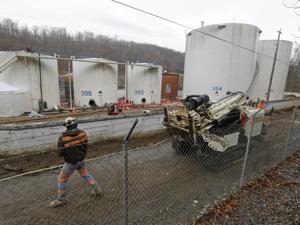 The damage likely resulted from water leaking through holes in the roof and settling on the tank floor. The board also found a similar hole penetrating the bottom of a nearby tank that contained MCHM. Investigators examined similar tanks at Freedom Industries and reported that several showed signs of pitting and metallurgical damage.
CSB chairman Rafael Moure-Eraso cited a general 'lack of thorough inspections and hazard reviews,' as well as 'the need for stricter regulations in areas where we find self-policing is not preventing accidents'.
Meanwhile, Freedom Industries has arrived at a tentative out-of-court settlement with attorneys representing local residents and businesses whose water supply was disrupted by the chemical spill.
MCHM is an irritant, and exhibits minor toxicity at high doses (in the region of 400mg/kg bodyweight). The leak contaminated the drinking water supplies of up to 300,000 local residents, rendering tap water temporarily unusable for anything but flushing toilets. In all, the CSB says 369 patients were treated for nausea, skin rashes and vomiting following possible exposure to MCHM in water, and 13 were hospitalised.
'We have reached an agreement with Freedom,' says Anthony Majestro, a partner in the law firm representing local businesses suing the company. The proposed settlement, under which $2.9 million (£1.7 million) would be placed in a trust fund and then spent on public projects like medical monitoring and testing of the water supply, must still be approved by a bankruptcy court and then a federal district court.
'The intent is to do those sorts of things that would benefit the people that were affected by answering the unanswered questions that they have regarding their exposure to the chemical in their water supply, and on their property,' Majestro tells Chemistry World.