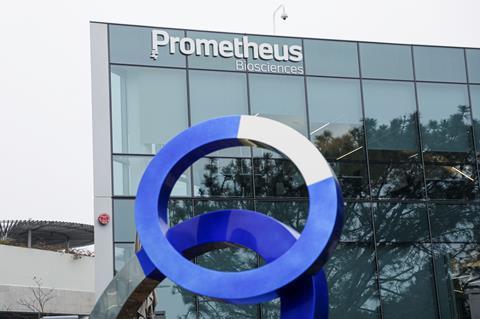 Merck & Co has agreed to buy Prometheus Biosciences, which specialises in developing treatments for immune-modulated diseases, for $10.8 billion (£8.7 billion) in cash.
The main focus of the deal is PRA023 – Prometheus' antibody directed at tumour necrosis factor-like ligand 1A (TL1A), a protein target associated with intestinal inflammation and fibrosis. PRA023 has had positive results in Phase 2 clinical trials treating both ulcerative colitis and Crohn's disease – two forms of inflammatory bowel disease. Because of TL1A's association with a wide range of other forms of inflammation and fibrosis, the company is also investigating the antibody in several other, related diseases.
PRA023 faces potential competition from another TL1A-directed antibody in development by a joint venture between Pfizer and Roivant Sciences, set up in December 2022 after it, too, posted positive Phase 2 trial results. Both antibodies are expected to proceed into Phase 3 trials imminently.