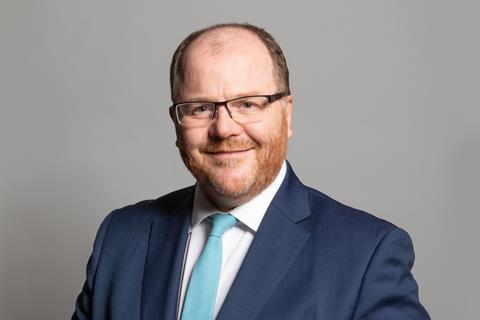 The UK's sixth science minister in as many years, has been welcomed by the research community as it anxiously awaits the outcome of next month's spending review.
George Freeman, the former – and only – life sciences minister to date, returned to the Department of Business, Energy and Industrial Strategy (BEIS) in this month's reshuffle. Aside from the outcome of the Treasury's spending plans he inherits a full inbox, including setting up the new Advanced Research and Invention Agency, Aria, formulating a new strategy for the Office for Science and Technology and whatever emerges from an in progress review of the UK's research environment.
Before becoming a politician, the MP for Mid Norfolk had a 15-year career setting up and financing biomedical start-ups in the Cambridge technology cluster. One of these, Amedis Pharmaceuticals, developed a silicon chemistry platform for drug discovery.
The role of science minister was downgraded in last year's reshuffle when responsibilities for universities and science were split across two departments. Amanda Solloway, who had no previous ministerial experience, became parliamentary under secretary of state, a less senior position than her predecessor Chris Skidmore. Michelle Donelan took on the universities brief, widened this year to include further education. Unlike Freeman, she now attends cabinet.
However, Ben Bleasdale at the Campaign for Science and Engineering, suggests access to cabinet may not be critical. 'If you've got something in the manifesto, then you've done a lot of the work already in terms of getting onto the political agenda. So my hope is that George Freeman is able to use that platform – particularly with the PM's allegiance to the £22 billion [R&D spending] target – as the access that he needs to get the conversations done, and hopefully get that money delivered.'
Bleasdale is Case's newly appointed director of the Discovery Decade project aimed at making science a political priority for the public. 'You've got these targets, which are a manifesto issue, yet, perversely, they're not really a doorstep issue. And that's a very precarious environment to be working in,' he says, particularly if champions of science in government move on or change priorities.
Concern is already growing that the date the government had said it would achieve public R&D spending of £22 billion two years hence was nowhere to be seen in this summer's Innovation Strategy, and this was highlighted earlier in the week by the Commons science and technology committee. The committee published correspondence with business secretary Kwasi Kwarteng, who would only reiterate the commitment – not the target date. On his blog, Richard Jones, professor of materials physics and innovation policy at the University of Manchester, said there needed to be 'realism and honesty' both about the tight financial situation as a result of the pandemic, as well the spending needed to meet economic and climate goals.
Angeli Mehta is a freelance science writer with a research PhD, based in Edinburgh, UK
View full profile