Successful defences based on laughing gas' medical uses follow prominent convictions that have resulted in a legal lottery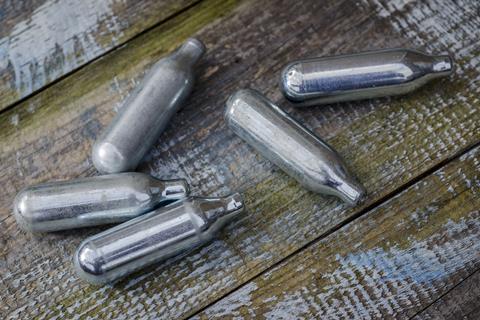 Defendants prosecuted for supplying nitrous oxide under the UK's Psychoactive Substances Act 2016 (PSA) have had the last laugh, after judges ruled the gas exempt from the drug law. Trials in late August in Southwark and Taunton Crown Courts concluded that 'laughing gas' qualified as a medicinal product. As the PSA excludes medicinal products, the defendants were acquitted.
Yet in Wood Green Crown Court on 25 August, Sonny Chapman was sentenced to two years for selling nitrous oxide under the PSA, having been found with 14,000 canisters of the gas. Paul North, addiction and treatment adviser at drug policy group Volteface highlights that the differing trial outcomes 'raise a lot of questions' about the PSA's blanket ban approach. He adds that the confusion is significant because nitrous oxide is exceptionally popular and prevalent, found 'everywhere' at Glastonbury Festival, the Notting Hill Carnival and other large events.
In the Southwark Crown Court trial, University of Oxford psychopharmacologist Philip Cowen tells Chemistry World that he was due to testify that nitrous oxide is covered by the PSA. The defence had Imperial College London's David Nutt lined up to put the opposing view, Cowen says, although they both agree on its effects. 'Nitrous oxide has been known to be psychoactive for two centuries,' Cowen notes, referring to experiments in the 1790s involving Humprey Davy and poets such as Samuel Taylor Coleridge.
However, neither Cowen nor Nutt made their arguments. Instead, the judge acquitted the unnamed defendant after prosecution barrister Adrian Fleming made a legal argument that nitrous oxide was an exempted substance, Cowen says. Fleming reportedly told the court that the Crown Prosecution Service took the view that the case demanded 'a full review of the legislation'.
No laughing matter
Meanwhile, in Taunton, two defendants were acquitted after being arrested in possession of nitrous oxide in 2016 going into Glastonbury. Defence barrister Ramya Nagesh argued that the substance is a medicinal product, emphasising its use in childbirth. Judge Paul Garlick said that on the evidence he heard, nitrous oxide 'plainly is an exempted substance'.
Neither case sets a legal precedent but together they provide 'persuasive authority at other Magistrates' and Crown Courts', Nagesh says. 'The Home Office cannot simply continue to say this substance is illegal: somebody needs to take a close look at the legislation,' she adds.
The Home Office was equivocal in its comments to Chemistry World. 'Nitrous oxide is covered by the Psychoactive Substances Act and is illegal to supply for its psychoactive effect,' a spokesperson says. 'However, the act provides an exemption for medical products. Whether a substance is covered by this exemption is ultimately one for a court to determine based on the circumstances of each individual case.'
The spokesperson highlighted that since the PSA became law over 300 retailers had stopped selling psychoactive substances and the police have arrested many suppliers. 'These dangerous drugs have already cost far too many lives and the Psychoactive Substances Act is sending out a clear message – this government will take whatever action is necessary to keep our families and communities safe.'
Yet nitrous oxide is 'lower on the scale of harms' than other substances, Cowen says, although it still has risks. Excessive use depletes vitamin B12, and in some cases can cause psychosis, he emphasises. One to two people die of asphyxiation while inhaling nitrous oxide each year in the UK, Cowen says, although the government doesn't include it in its 'deaths related to drug poisoning' data. He adds that no other obvious medically exempt substances are likely to cause similar confusion.
The UK government has previously featured nitrous oxide convictions prominently in its PSA success stories. For example, it publicised the sentencing of William Cook to 42 months in prison for possession with intent to supply nitrous oxide in September 2016. He had been caught with hundreds of canisters and balloons at the Electric Daisy Carnival in Milton Keynes in July 2016.