Coriander leaves can be useful for more than just curries, find undergraduate students
It's a kitchen staple for curry enthusiasts, but new research suggests there could be more to coriander than its tangy flavour. A team of US undergraduates have shown the herb has excellent heavy metal binding properties, which they say could help provide people in developing countries with safer drinking water.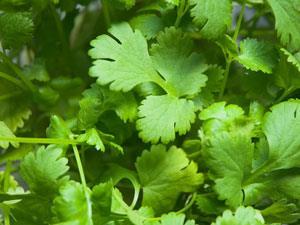 '[Coriander] is widely available in parts of the world that have a big problem with heavy metals in their water supply' says Saina Husain, one of the undergraduates at Ivy Tech Community College in Indianapolis, US, who took part in the research. Speaking at the 246thACS National Meeting & Exposition, she described how the team worked with scientists at the Polytechnic University of Francisco I Madero in Hidalgo, Mexico, to investigate the metal absorbing properties of different plants.
'We collected biomass samples from around the university campus, and screened their ability to bind heavy metals in solution,' she says. Coriander was found to have excellent affinities for nickel and lead, both of which are highly toxic.
'Ground up [coriander] leaves and stems can remove nearly 20mg/g of nickel from solution in around 45 minutes,' Husain says. 'And it performs even better for lead, removing 145mg/g in just 15 minutes.' The exact mechanism by which the plant binds heavy metals like this is still poorly understood.
The team are still working on ways to put their discovery to practical use. Large-scale water purification systems based on coriander are not really an option, but in areas where the plant grows wild it could potentially be used at the level of individual households.
'Our goal is to make some kind of 'teabag' that could be manufactured on a large scale,' she says. 'You could then introduce that to a container of water, leave it in for a certain amount of time, and remove it to get rid of the contaminating metal.' She adds that other plants which can bind metals such as chromium, copper and arsenic have also been identified, so ideally several different ones could be combined into a single device.
Massoud Pirbazari, a water purification expert at the University of Southern California, has been involved with similar undergraduate-led research projects. 'The use of coriander as a "biosorbent" may be a promising decontamination technique, and this research should be lauded for its effectiveness, simplicity and low cost,' he says.