An Indiana farmer who was trying to replicate Monsanto-patented seeds infringed on the company's intellectual property rights, the Supreme Court has determined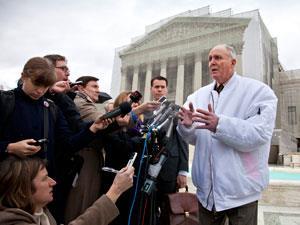 The US Supreme Court has unanimously ruled that a farmer in Indiana violated the intellectual property rights of the agricultural biotechnology titan Monsanto when he regrew the company's genetically modified and herbicide-resistant soybean seeds by planting second-generation seeds.
The 9-0 decision, announced on 13 May, is being celebrated by the biotechnology and agricultural sectors, but denounced by some environmental and sustainable food groups.
The Supreme Court justices upheld a lower court's ruling that the farmer, Vernon Bowman, violated Monsanto's intellectual property rights by regrowing second-generation seeds. They ruled that purchasers can resell such patented seeds under the so-called 'patent exhaustion' doctrine, but they are prohibited from making new copies of them.
'The question in this case is whether a farmer who buys patented seeds may reproduce them through planting and harvesting without the patent holder's permission,' the justices concluded. 'We hold that he may not.' Therefore, they ruled that Bowman must pay Monsanto more than $84,000 in damages and court costs for patent infringement.
Bowman apparently regularly purchased Roundup Ready—Monsanto's soybean plants genetically modified to survive exposure to glyphosate, the active ingredient in many herbicides—from a company affiliated with Monsanto for his first crop of the season.
Saving seeds
Each year, Bowman allegedly planted saved seed from the year before, sprayed his fields with glyphosate to kill weeds and any non-resistant plants, and then produced a new crop of glyphosate resistant soybeans.
'Bowman planted Monsanto's patented soybeans solely to make and market replicas of them, thus depriving the company of the reward patent law provides for the sale of each article," the Supreme Court justices concluded. 'Patent exhaustion provides no haven for that conduct.'
Monsanto applauded the ruling, saying it provides an incentive to innovate by offering inventors a meaningful opportunity to recover costs on their R&D investments.
But not all stakeholders were supportive of the decision. For example, executive director and founder of Food Democracy Now!, Dave Murphy, called the decision a 'huge win' for Monsanto. He accused the Supreme Court of affirming 'the corporate takeover of our food supply.'
Virginia patent attorney Gene Quinn disagrees. 'I think they got it right,' he tells Chemistry World. 'The Supreme Court decided a patent issue; it didn't decide that Monsanto owns all of the food in the world.' Ultimately, Quinn says Bowman was trying to harvest the Monsanto-patented seeds without paying for them.