Tips and resources for (almost) everyone ‌ ‌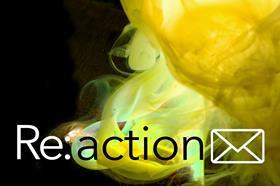 This is a sample from a special back-to-school edition of Re:action, our weekly newsletter featuring the top chemical science stories handpicked from a range of magazines, journals and websites – including Chemistry World – alongside insight and analysis from our expert editorial team. Find out more and register free here.
Secondary teachers
Are your students getting mixed up between energy and enthalpy? Teach them how to master chemical energetics with this resource from Education In Chemistry.
Practical chemistry in the classroom can often be stressful for teachers and students alike, but it's important to encourage decision making in the chemists of the future. Classes can decide 'how many coils to wrap around their iron core, choose the size of the measuring cylinder to find the density of irregular objects, and select their ink colour for chromatography,' write Emily Casserly and Lucy Wood.
Kristy Turner, meanwhile, encourages teachers to stop worrying about learning loss over the school holidays, as long-term memory is more important than short-term memory. Here are her top tips for making sure students are on the right track.
Higher education teachers
If you're thinking about employing technology to engage your undergraduates take a look at this article from the University of Waterloo that considers the use and misuse of technology in chemistry lectures.
And with lots of students nowadays using AI tools like ChatGPT to get things done, this editorial in the Journal of Chemistry Education Research and Practise discusses the balance between artificial intelligence and authentic assessment in student learning.
Technicians
The Online Science Prep Room contains tonnes of practical ideas, workshops and supplier information for all types of lab technicians. They even have a free monthly newsletter filled with tips.
Technicians often don't get the recognition they deserve. This Chemistry World careers article discusses the grey area of co-authorship. And if you're looking to develop your career take a look at this Education in Chemistry article with ideas for development opportunities. It also discusses some of the weird and wonderful activities that technicians have been asked to prepare that include using Yakult bottles, cotton wool and chocolate coins.
Early-career researchers
There are lots of resources out there for researchers starting their own lab. Here are tips on running a research group from Chemistry World and the Wellcome Trust. Don't forget to make sure your lab-group website is up-to-date and looking great (and have you got a lab-group logo?). We also found a resource on making sure your lab meetings are productive so you don't waste time.
A lot of research focuses on sustainability and climate change – but how much thought is put into making research itself more sustainable? Here's our guide to running a sustainable chemistry lab.
And here's guidance on securing research funding, reviewing papers and becoming a professor.
Meanwhile, if the daily grind is stealing your drive to work check out this article about staying motivated as a researcher.
Post-graduate students
If you've got decisions to make, take a look at these guides on adviser selection and choosing a research group. But before reading either of those check out Lucy Taylor's list of 20 things she wish she knew before starting her PhD.
In the meantime, here's advice on networking at conferences, giving great scientific presentations and getting your work published.
Undergraduate students
Struggling to identify your compounds using NMR? NMR challenge by IOCB Prague will get you up to speed. It has over 100 exercises, including advanced 2D NMR problems.
If your practical work looks set to involve some air sensitive chemistry, familiarise yourself with a Schlenk line. And once you understand the history behind it, dive into this practical Schlenk Line Survival guide, which was so widely used we decided to profile its creator, Andryj Borys.
Then, save time and headaches in the library by learning how to do an effective literature search. We also have tips on making posters and winning poster competitions.
And have you considered learning to code? Costas Zois says 'many chemists appear almost speechless in the face of the developments in computer science and technology, biding the time for some computer-savvy magician to bring the new tools and teach us how to use them blindly'. So here's a great resource from the University of Bath about using Python as a chemistry student.
We also recommend you spend some time browsing the immense catalogue of lecture slides, problem sets, group presentations and seminar videos from names including David MacMillan, Phil Baran and Dave Evans on Nessa Carson's website.
And finally…
Whatever career stage you're at, you'll always need a periodic table. This interactive version from the Royal Society of Chemistry features history, alchemy, podcasts, videos and data trends.
Moreover, make sure you support yourself and those around you this term. Here are our guides on protecting your emotional wellbeing and how to be an good ally.