With extremely bright fluorophores and a novel, highly sensitive reader, Brightline DX aims to bring lab-based levels of accuracy to the palm of your hand
The ongoing pandemic has forced a large majority of companies to approach their work differently, and this has required rapid adaptation to a new normal. In particular, the speed and accuracy of point-of-care diagnostics and subsequent treatments has been a top focus within the medical technology industry, as well as a keen interest of the general public.
Countries around the world require accurate Covid-19 testing, in order to keep their citizens safe and protect economies. With testing a key factor in tracking the virus, currently available tests are now under ever-growing scrutiny. The majority of Covid-19 testing is performed via either polymerase chain reaction (PCR) techniques or lateral flow. PCR can detect the presence of viral RNA and is the most reliable form of testing. Unfortunately, these types of tests can be expensive, time consuming and require analysis in a lab, meaning they aren't ideal for rapidly testing large numbers of people at public venues. Lateral flow-based diagnostics can address some of these drawbacks, thanks to their rapid results, relatively low cost and portability. However, concerns have been raised around their accuracy – and with the health of the population riding on these tests, accuracy is paramount.
Conventional lateral flow tests require high viral loads in order to detect the virus, which are often present before patients show symptoms. Although they provide rapid results, these tests are potentially less effective at diagnosing asymptomatic carriers. As a result, there is a need for an accurate and rapid diagnostic test to deliver reliable results, including for those without symptoms, quickly at the point of care.
Responding to Covid-19
As the pandemic has progressed and the impact of asymptomatic transmission has become clearer, the need for rapid point-of-care testing has grown. In response, Brightline Diagnostics (DX) was formed - a joint venture between Stream Bio, developer of unique bioimaging probes called conjugated polymer nanoparticles (CPNs), and Chelsea Technologies, an innovative designer and manufacturer of environmental monitoring devices.
a lateral flow device incorporating conjugated polymer nanoparticles can aid detection of asymptomatic Covid-19 carriers
CPNs have a set of properties that make them ideal for use in diagnostics. With powerful brightness, producing detectable signals even at extremely low levels, a lateral flow device incorporating these nanoparticles can aid detection of asymptomatic Covid-19 carriers. In addition, CPN stability across a range of temperatures and pHs, with no loss of brightness, allows for these tests to be used in any environment. Finally, and crucially, CPNs can be easily conjugated to a variety of targeting molecules, making the platform easily adaptable for various targets.
Powered by these innovative probes, Chelsea Technologies' fluorometric reader can enhance this detection sensitivity further. The result is a highly sensitive and robust diagnostic platform, known as Claritas. This device can be used in a wide range of conditions, from community testing centres, transit hubs, educational venues, factories and office buildings to remote areas or locations without access to laboratory infrastructure – all at a higher sensitivity than conventional methods.
Adaptation, innovation
The Claritas platform is versatile, with several projects underway to adapt it for use in combatting many other global concerns. All that is required for specific target detection is coupling CPNs to a specific targeting molecule and adapting algorithms. This gives the platform potential for a huge range of applications in healthcare, environmental testing and more.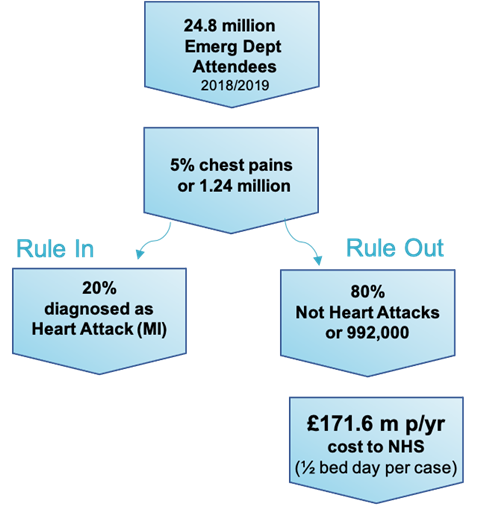 One of these applications is in early heart attack diagnosis. In the UK, there are on average 1.24 million chest pain admissions per year, but only 20% of these will be diagnosed as heart attacks. The lack of an accurate and rapid diagnostic aid results in unnecessary admissions, costing the NHS over £170 million annually. By adapting the platform to quantify levels of cardiac troponin, a key biomarker, Claritas will enhance the inefficient clinical pathway, improving patient outcomes and saving healthcare organisations valuable time and money. The robust nature of the diagnostic platform would make it ideal for use in ambulances or the emergency room, quickly diagnosing heart attacks and allowing for earlier intervention when needed.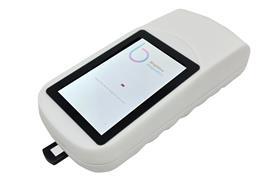 Environmental monitoring is another focus for the Claritas platform. The reader is battery-powered, waterproof and shockproof, making it ideal for uses in extreme environments. In addition, the crucial component of the lateral flow test – the CPNs – are not adversely affected by temperature.
These applications, and the great potential of the platform to support Covid-19 testing, highlight examples of how Claritas is already being adapted to transform diagnostics and enhance healthcare, but Brightline DX is looking to explore further.
Lateral flow 4.0
Brightline DX is working hard to lead a transformation in point-of-care diagnostics. In addition to this, and promising applications in environmental monitoring, Brightline DX is a firm believer in collaboration. Amid continued efforts towards Industry 4.0, Brightline DX is looking for partners, with a goal of exploring new and exciting targets for the Claritas platform. The technology and expertise behind the platform is set to ensure that the future of rapid diagnostics is bright.

Brightline DX is a joint venture formed by two highly innovative UK companies, Stream Bio and Chelsea Technologies, to combine novel technologies and create a unique platform that can be applied to a wide range of diagnostic targets. Stream Bio and Chelsea Technologies bring a wealth of knowledge on the design and manufacture of nanoimaging products and environmental monitoring technology respectively which make possible improved diagnostics in a variety of areas including medicine, water quality and improving the general environment.
View full profile
Welcome to chemistry 4.0
1

2

3

4

5

6

Currently reading

Lateral flow 4.0 and the next generation of rapid diagnostics