Public–private venture will invest $350 million over five years but there are warnings that much more money is still needed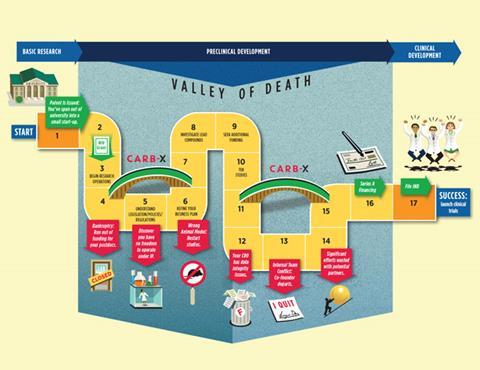 A new international network that grew out of President Obama's 2015 antibiotic initiative aims to rejuvenate the antibiotic pipeline over the next five years with the help of hundreds of millions of dollars. The public–private partnership allies four research hubs in the fight against antimicrobial resistance (AMR) with the goal of getting promising molecules into preclinical trials faster.
The partnership is called Combating Antibiotic Resistant Bacteria Biopharmaceutical Accelerator, or CARB-X, and will begin awarding funds within months. It will guide a suite of products through early preclinical development, moving them towards private or public investment. Two of the so-called accelerators are in the UK and two in the US.
'We have at least $350 million (£265 million) over the next five years in new money for antibiotic preclinical R&D. That is extraordinarily good news,' says Kevin Outterson, executive director of CARB-X and professor of law at Boston University, which will host its headquarters.
Numerous reports have noted the parlous state of the world's drugs to treat infection, with bacteria resistant to the antibiotic of last resort discovered in China last year. This has led to fears routine surgery could become impossible and that easily treated infections could once more be killers.
CARB-X's target is preclinical work, not early stage discovery work typically carried out in universities. Outterson expects most applicants will be small companies spun out of universities, but charities, individual researchers or even large companies could apply. Over the first five years, the goal is to get a diverse range of over 20 high quality antibacterial products close to human testing.1
The Biomedical Advanced Research and Development Authority (BARDA) in the US will inject $30 million of R&D funding during the first year and up to $250 million over the project's lifetime. Those seeking funds can apply to one of four accelerators – the Wellcome Trust or the AMR Centre in the UK, and MassBio in Cambridge, Massachusetts, or the California Life Sciences Institute in the US.
The accelerators will offer three services. They will provide funding, free preclinical services, such as toxicity studies, and offer business support on, for example, securing venture capital. 'We are looking to nurture these companies [developing novel antibiotics],' says Outterson.
Open doors
'CARB-X is open to anybody. What we want is to make sure great ideas get progressed through to clinical development,' says Peter Jackson, chairman of the AMR Centre, a public–private initiative based in Alderley Park, Cheshire. 'We are willing to take on more risk than traditional financial investors and less traditional approaches.' The AMR Centre aims to provide $14 million to support CARB-X projects in year one and up to $100 million over five years.
The network is focused on antibacterial products more broadly, not just therapeutics. It is open to small molecules, antibodies, diagnostics, vaccines and other approaches such as virulence modifiers. Initially, CARB-X will focus on Gram-negative bacteria and unconventional approaches.
Companies or individuals will be able to apply for funding direct. 'We expect applicants to be drawn mostly from academia and SMEs, and expressions of interest can be made via the CARB-X website,' says Tim Jinks at the Wellcome Trust.
Accelerators will likely evolve their own ideas and approaches. 'The prospect of collaborative competition among these and perhaps other accelerator groups will be exciting to see,' comments Anthony So, director of the Johns Hopkins Centre for a Liveable Future. 'We need billions of dollars of incentives. So this is a useful start, but only just that,' So cautions. The recent O'Neill report called for global funders to pump up to $40 billion into antimicrobial resistance.
'The reality is $350 million is a relatively small sum in terms of drug delivery,' agrees Colin Garner at the charity Antibiotic Research UK. SMEs are the pipeline that supply new drugs, but only big pharma can bring them to market, he notes. 'This is a public–private partnership, but it is singly lacking in pharmaceutical industry involvement and industry will ultimately be needed to solve this problem.'