Plan to tackle superbugs includes changes to manufacturing and sales incentives
Leading pharma companies last week promised to take concrete actions to combat antimicrobial resistance. The 'industry roadmap' sets out four commitments and was signed by 13 companies, including GSK, Johnson & Johnson, Merck and Co., AstraZeneca and Pfizer. It follows on from the Davos Declaration's call for a sustainable market for antibiotics in January.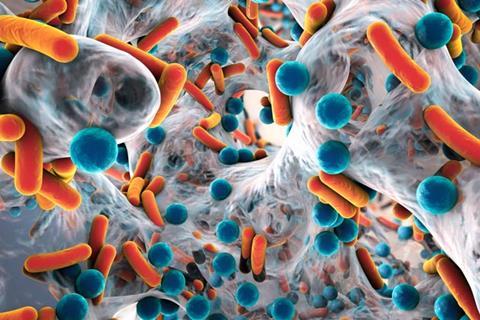 This is a pretty big step, says Kevin Outterson, a professor of law Boston University in the US. 'All the leading companies in the antibiotics field [are] agreeing to sell less of their product, making sure there is better access for poor people and being more careful in how it is manufactured,' he says.
Managing pollution
The first key commitment is to tackle pollution linked to antibiotic manufacturing. Discharging active ingredients into the environment promotes drug-resistance in microbes, and the companies have agreed to review their practices in controlling the releases of antibiotics. In one study in India, effluent from a treatment plant contained the antibiotic ciprofloxacin in concentrations as high as 31 mg/L, around a million times higher than levels in regular treated sewage effluent.
This happens partly because its legal and it is not so costly to lose some compounds, says Joakim Larsson, environmental pharmacologist at Gothenburg University. 'When it comes to discharges of pharmaceuticals, there are no good regulations in China or India or in Europe or the US,' he adds. Good antibiotic stewardship can entail trade-offs between benefits in patients and risks to society, but antibiotic pollution just gives some cost savings.
All the leading companies in the antibiotics field are agreeing to sell less of their product.

Kevin Outterson, Boston University
'This is something completely within industry's control and we need to sort it out. And this roadmap says we are going to make it happen,' says James Anderson, director of external partnerships at GSK. He says GSK is comfortable that its own API [active pharmaceutical ingredient] factories do not discharge high levels of waste, but is rolling out a new audit process to external suppliers. This will be completed next year. There is also a trade association to improve supply chains.
It is hard to know how companies perform in pollution. Many rely on contractors in India and China to produce APIs. 'Industry does not self-report on discharges in terms of antibiotics,' says Larsson. He believes incentives from outside are also needed. He views generic substitution strategies pursued by governments in Europe as part of the problem because the lowest cost antibiotic is subsidised. 'If the state says only price matters, then they ignore those who try to improve the pollution situation. Why should companies increase their costs?'
He points to one strategy recently adopted by Swedish hospitals: to ask for certain qualities in terms of manufacture, including emissions. Anderson strongly agrees. 'Industry driving itself forward and purchasers starting to request clarity: that will make a real difference in the next few years.' The roadmap sets a target to have a common framework for managing discharge by 2018. Industry argues that it still has to develop a scientific understanding of what constitutes acceptable minimums.
Others welcome a self-regulatory approach by industry, with provisos. 'There are benefits to self-regulation. It's less bureaucratic and a company might introduce different models, but it needs accountability and good monitoring,' says John-Arne Rottingen, infectious disease expert at the Norwegian Institute of Public Health. He adds antibiotics should have a full list of ingredients, detailing where and when they are produced.
Prescription problems
The second commitment is to ensure antibiotics are used only by those who need them, which the signatory companies have promised to examine by the end of 2017. Potential strategies include the removal of incentives to sell more antibiotics, as well as working to reduce uncontrolled purchases such as over-the-counter and internet sales.
'There is a long history of various companies over the decades aggressively selling antibiotics all over the world. They were treated as cheap and easy to replace,' says Outterson. 'This is the first time industry has said collectively said we need to prioritise stewardship and reduce sales.'
GSK has already de-linked pay with sales volumes for all its drugs. 'We now reward our sales reps based on technical knowledge and feedback from doctors, rather than sales volumes, which is the typical mechanism,' says Anderson. This was brought in globally at the beginning of this year.
'Industry has so far not recognised antibiotics as different, but in fairness they never had the right incentives,' says Ramanan Laxminarayan, who directs the US- and India-based Center for Disease Dynamics, Economics & Policy. He believes the industry can do more to ensure sales are properly regulated. 'They have the muscle to do that, but haven't exercised it.'
I take all these commitments with some skepticism until they are acted upon.

Ramanan Laxminarayan, Center for Disease Dynamics, Economics & Policy
Another commitment is better access to drugs, especially in poorer countries. Industry is hoping that a Market Entry Award, as proposed by the O'Neill review, will help here. 'You could either create a new global fund or let countries allocate a portion of a payment to reward a new antibiotic,' explains Christine Ardal at the Global Health Policy Institute, who works on DRIVE – AB, a project looking at new economic incentives for antibiotic innovation.
Many in the field are adopting a wait-and-see stance on the roadmap. 'I take all these commitments with some skepticism until they are acted upon,' says Laxminarayan. 'I hope the next press release will not be a promise but a report card.' Anderson says more companies can sign the roadmap and hopes to give periodic updates on progress.