Reports claim TATP synthesised by mistake at the University of Bristol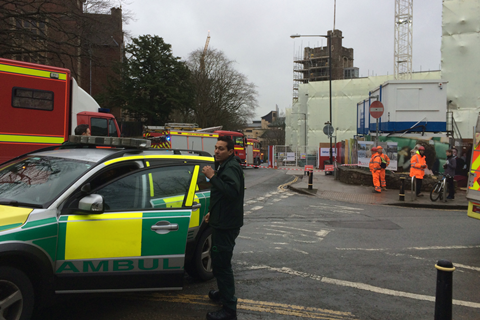 An incident in which a student accidentally synthesised an 'unstable substance', thought to be the explosive TATP, resulted in the entire chemistry department at the University of Bristol in the UK being evacuated on the afternoon of 3 February.
Five fire engines, including a chemical unit, were observed at the scene, along with police who set up a cordon around the area.
'Our chemistry building and those buildings in the near vicinity were evacuated as a precaution due to an unstable substance being manufactured by mistake,' a university spokesperson said. 'The substance was disposed of safely and no one was injured.'
The student newspaper Epigram and local press in Bristol both report being told the substance was triacetone triperoxide (TATP), the same explosive used in terrorist bombings in London, Paris and Brussels. A tweet believed to be from somebody at the university suggested 90g of the compound had been made accidentally, although the university would not confirm TATP had been made or the quantity synthesised.
The substance was reportedly disposed of in a controlled explosion in the nearby Royal Fort Gardens. The university said it would be 'looking into what happened and seeing what lessons can be learned'.