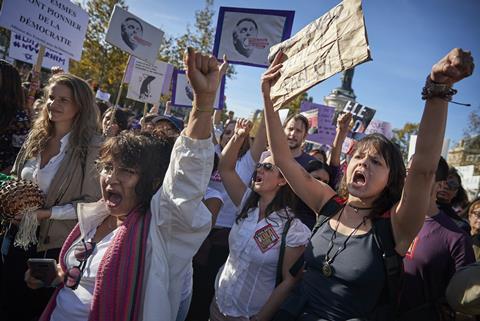 Researchers in Brazil say they are facing increasing threats since the election of far-right candidate Jair Bolsonaro as the country's president in October 2018. In an unprecedented development since the country regained democracy in 1985, scientists and academics who work in Brazil feel less safe, and some have even started to leave the country. Female researchers especially appear to be targeted.
The trend is directly related to Brazil's current political climate, according to the charity Scholars at Risk (SAR), which promotes academic freedom. Pleas from Brazilian scientists for the organisation's help have grown from a single case in 2017 to at least 18 since the beginning of the presidential campaign last July, according to an interview with a member of the NGO published by Brazilian outlet Agência Pública.
A researcher who monitors Brazil for SAR and spoke to Chemistry World anonymously, says there's a qualitative change in these cases. 'Even though attacks on academic freedom are not new in Brazil, the cases we saw before didn't lead professors to take to exile – we're seeing that now,' she says.
Bolsonaro affiliates have primarily targeted public universities, which are the largest contributors to research and development in Brazil. The most visible effort to shut down debate has come from Escola Sem Partido, a conservative political initiative supported by education minister Ricardo Vélez that aims to restrict perceived ideological indoctrination in academia by limiting the freedom of teachers and professors to express their views on topics like gender or politics.
The laws proposed by Escolas Sem Partido would affect all levels of education, from primary schools to universities, and they would also influence the contents of curricula in both public and private higher education institutions.
Because female researchers work more often than their male colleagues in fields that are perceived as ideological by the government and its supporters, observers say they are more likely to be targeted. Those who study issues related to gender, indigenous rights, feminism and race equality in Brazil have been singled out, but there is growing concern among researchers in the sciences including chemistry.
Remaining vigilant
'I've been told, by people who love me, that being so outspoken could bring me trouble,' says chemistry professor and researcher Irene Teresinha Santos Garcia from the Federal University of Rio Grande do Sul in Porto Alegre. 'Of course I'm afraid, but I also believe we have a role to play as a society,' she adds. 'We must remain vigilant.'
Santos Garcia conducts research on semiconductor oxides for solar cell applications. 'I work in a technical field, so I don't talk politics in the classroom,' she says. Nevertheless, Santos Garcia feels vulnerable since Bolsonaro became president.
Universities came under fire during the presidential campaign, and the heat has not abated. The attacks don't come directly from the Bolsonaro administration, but the Brazilian SAR monitor describes a 'political climate that nurtures that violence'. She refers to this as 'dog-whistling'. Typically, she says, academics are threatened through anonymous letters. 'They use homophobic and racial slurs, and target individual professors and students by name, accusing them of indoctrinating or spreading Marxism,' she explains.
Another major concern for Brazilian scientists is the country's federal science budget, which has suffered significant cuts in the last few years. Government science funding is at its lowest level in a decade. Indeed, worries have increased since Bolsonaro suggested during his campaign reshuffling or possibly eliminating the country's science and technology ministry.
Vanderlan Bolzani, a chemist and professor at the Paulista State University in São Paulo, is concerned about the future of Brazil's research enterprise. She has often voiced feminist positions and says she is 'very worried about the government'. However, Bolzani doesn't believe that current problems can be blamed on Bolsonaro alone. She says Brazil is 'in deep financial trouble', but notes that its science and technology ministry, which is responsible for funding much of the research that comes out of the country's public universities, is there to help.
In November, Bolsonaro appointed Marcos Pontes, who became the first South American to go to space in 2006, as Brazil's minister of science and technology. 'The people in the administration are intelligent and sensible,' says Bolzani, who served as the president of the Brazilian Chemical Society from 2008 until 2010. She is hopeful that government science and technology funding can at least be maintained in the next few years.
'I don't agree with this government, but it was chosen democratically, and I trust that democracy will be respected,' she states.
Correction: An author's affiliation was updated at their request on 3 April 2019