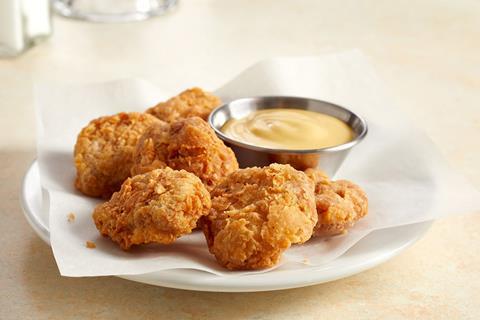 Singapore's food regulatory agency has just approved the sale of cultured meat developed by US start-up Eat Just. This is the first time that any nation has allowed the sale of synthetic meat grown from animal cells. It can now be sold in the country as an ingredient in 'chicken bites'.
'Our chicken is not "artificial",' says Eat Just spokesperson Andrew Noyes. 'Cultured meat is made from animal cells, the same input and essential composition of conventional meat,' he explains.
In order to obtain the approval of Singapore's food agency, Eat Just provided extensive documentation on the characterisation of its cultured chicken, and the process used to produce the product. The company also detailed the purity, identity and stability of chicken cells during the manufacturing process, and proved that the product met quality controls and safety thresholds.
Eat Just completed more than 20 production runs of its cultured chicken product in 1200 litre bioreactors, and the company says its proprietary process does not use antibiotics. 'Safety and quality validations demonstrated that harvested cultured chicken met the standards of poultry meat, with extremely low and significantly cleaner microbiological content than conventional chicken,' the company stated.
The analysis further revealed that the product has a high protein content, more diverse amino acid composition, relatively high levels of monounsaturated fats, and is a rich source of minerals. 'I'm sure that our regulatory approval for cultured meat will be the first of many in Singapore and in countries around the globe,' said Josh Tetrick, the company's co-founder and chief executive
Alternatives to traditional meat are increasingly popular amid health, animal welfare and environmental concerns. While such meat substitutes have traditionally been based on plant materials, culturing meat from animal cells is an emerging area.
In October, Eat Just announced a partnership to build and operate the largest plant protein production facility in Singapore. The goal was to help meet demand for the company's plant-based egg substitute – made from mung bean protein isolate – across Asia.
'Cultivated meat will mark an enormous advance in our efforts to create a food supply that is safe, secure and sustainable, and Singapore is leading the way on this transition,' said Bruce Friedrich, executive director of the Washington DC-based international non-profit Good Food Institute. 'A new space race for the future of food is underway.'

Rebecca became the US Correspondent for Chemistry World in September 2014, based out of Washington, DC, after writing for the magazine on a freelance basis since 2007.
View full profile