Sustainable method for producing proteins for human consumption made possible by clever two-stage bioprocess

A biotechnology platform that turns waste resources and renewable energy into edible proteins has been developed by scientists in Germany. The team says the system could be scaled to provide food security for a future global population of 10 billion people.
Concerns over animal welfare and the sustainability of rearing meat are encouraging researchers to rexplore foods based on single-cell protein. 'It is clear with climate change that we cannot carry on with conventional agriculture,' says Largus Angenent, of the University of Tübingen.
Angenent's team has devised a system that generates yeast biomass with a protein mass-fraction of 40–50%. The two-stage bioprocess uses the bacterium, Clostridium ljungdahlii, to convert hydrogen and carbon dioxide into acetate through the carbon fixing Wood–ljungdahl pathway. This carbon fixing pathway is preferable because it does not introduce both oxygen and hydrogen gas into the same bioreactor, which can be a safety concern.
A pure culture of Saccharomyces cerevisiae (baker's yeast) in the second bioreactor converts the acetate along with ammonia and oxygen into edible protein for processing into food. The recycled ammonia could come from industrial waste streams, or even dilute human urine.
Other microbial protein-generating processes already exist but must be fuelled by sugar, so still rely on agriculture. Using renewable electricity to split water and supply the process with hydrogen and oxygen gives Angenent's system the low-carbon footprint that food production desperately needs.
'This work shows that original yet technically simple alternatives may be the basis to promote circularity in our society,' says Diana Sousa a microbiology and biotechnology expert at Wageningen University & Research in the Netherlands. She says it builds on years of fundamental research on acetogens – microorganisms that use an ancient pathway to convert carbon dioxide and hydrogen into organic compounds like acids and alcohols. 'I am thrilled with the prospect of finally seeing the findings of so many scientists working in this field translated into an application that can make an impact for a sustainable society.'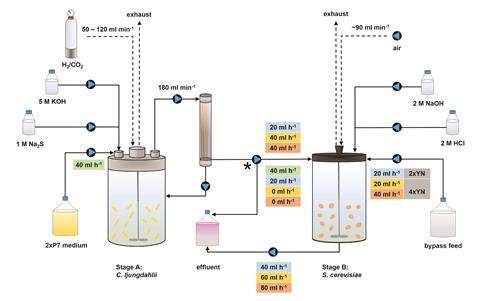 'The proof-of-concept that one can, by this route, nicely produce human food in the form of the common yeast S. cerevisiae, is certainly a step forward and quite a hope for the planet,' comments Willy Verstraete, an expert in microbial resource management from the University of Ghent in Belgium.
Many of us have eaten, or at least seen, food products produced by single-cell protein that are marketed under the brand name Quorn. This is currently the only commercially available single-cell protein product for humans and is produced at a rate of 1.25g/l/h. To generate industrial quantities, Angenent's two-stage system needs to be 14 times more productive – so far the team has only reached a rate of 0.07g/l/h.
One of the first sections to optimise is recycling the lost carbon dioxide in the second stage, as only 25% of that carbon becomes biomass. 'A major part of the carbon dioxide fixed in the first step of the two-phase process, is released again in the second step yeast growing process,' comments Verstraete. However, Angenent tells Chemistry World, 'the technology to do this experiment exists already and we can learn from other companies, like Quorn.'
References
B Molitor, A Mishra and L T Angenent, Energy Environ. Sci., 2019, DOI: 10.1039/c9ee02381j