Waste plastic bottles become a source for porous metal–organic framework synthesis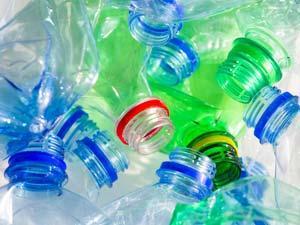 Scientists in Belgium have discovered how to make metal–organic frameworks (MOFs) from waste plastic bottles.
MOFs are porous polymers that excel in a range of applications from gas storage to catalysis and sensing. Scientists usually make MOFs from high purity chemicals, which are expensive and generate huge amounts of waste during their production. To produce MOFs on a large scale, researchers must find more environmentally friendly production methods and easily available source materials.
Waste plastic bottles are a major source of polyethylene terephthalate (PET), which, when hydrolysed, produces carboxylic acid – a key components in many MOFs. Dirk E De Vos and colleagues from the University of Leuven, Belgium, have combined PET hydrolysis and MOF synthesis into a one step process. Using shredded bottles as raw material, they made high quality MOFs such as the gas-absorbing MIL-53(Al). De Vos and his team have even managed to grow MOFs directly on the surface of a PET bottle.