A team at the Lawrence Berkeley National Laboratory in California, US, has developed a new family of polymers that brings us closer to the dream of closed-loop, zero-waste plastics. To achieve this they used a family of molecules called polydiketoenamines, held together by dynamic covalent bonds that, while very strong, can be easily broken down using small amounts of acid.
Diketoenamines were pretty much unknown in polymer chemistry until now. Lead author Brett Helms explains that 'this motif had been known as a protecting group in solid state peptide chemistry, but often classified as "promiscuous" as it bounced around different amine groups during peptide synthesis. We thought that the promiscuity of diketoenamines was evidence of dynamic covalent behaviour, which could come in handy for synthesising new polymers,' he explains. And it worked. Surprisingly, polydiketoenamines could be made simply by mixing ketones and amines. 'It's a click reaction that works at room temperature, without needing catalysts, additives or even a solvent,' says Helms. 'They just require a few minutes in a ball mill.'
And the surprises continued. 'While cleaning our glassware with acids, we realised that a chemical reaction was taking place,' Helms says. 'We decided to analyse the products, and we were dazed to identify our original monomers.' Diketoenamines could be converted back to their building blocks using just concentrated acid.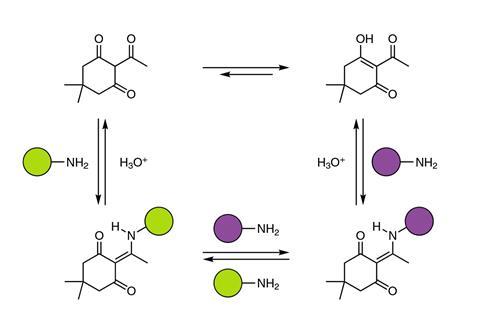 'The approach is innovative and elegantly simple,' says Rachel O'Reilly, an expert in polymer chemistry at the University of Birmingham, UK. 'This new type of plastic can undergo closed loop recycling, which means it can be depolymerised into its monomers … and then remade into a polymer with the same properties as the original,' she adds.
Depolymerising reactions are key steps towards the goal of sustainable plastic recycling. Beyond that, erasing the plastic's previous use is a way to go from recycling to upcycling – creating a higher value product from waste materials. Helms and his team achieved this too. 'We can separate the monomers from all the extra ingredients that manufacturers put in their plastics for performance and aesthetics, like fillers, colorants or plasticisers,' he says. 'The separation between depolymerised monomers and mixed-colour additives is really impressive,' says O'Reilly. 'The authors clearly demonstrate the potential of the technology.'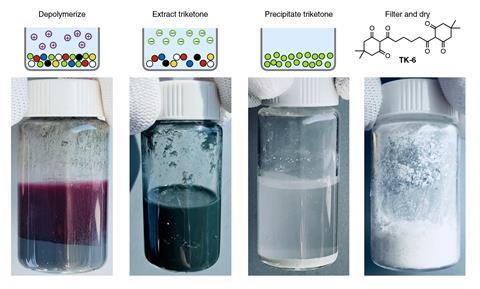 'The design is perfect, and the mechanical properties of these new polymers are characteristic of strong and resistant materials,' says O'Reilly. 'Moreover, this concept could trigger the design of other polymers with different tunable properties,' she adds.
'There is no one single solution to the plastics problem, but these developments are a very important step towards using polymers in a more responsible manner,' says O'Reilly. Helms' team is also working to make the recycling process more sustainable. 'We want to reduce water use and minimise the resources and energy needed to upcycle the polymers.'