$1bn investment to commercialise breast cancer treatment
Pfizer is investing $1 billion (£716 million) in Yale University spin-out Arvinas to commercialise the protein degrader drug ARV-471. The deal comprises a $350 million equity investment, giving Pfizer about 7% ownership of Arvinas, plus $650 million cash up front and milestone payments. The two companies already had a licensing deal, agreed in 2018.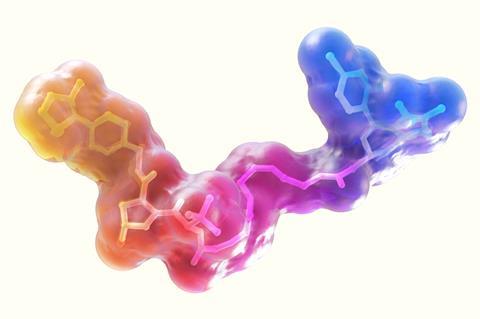 ARV-471 degrades the oestrogen receptor, a driver of most forms of breast cancer. It is currently in phase 2 clinical trials for breast cancer, and a phase 1b trial in combination with Pfizer's palbociclib (Ibrance). Further trials are planned, notably phase 3 studies in metastatic breast cancer, including combinations with palbociclib, slated for 2022.
'This collaboration has the potential to be transformational as it combines our leadership in targeted protein degradation with Pfizer's global capabilities and deep expertise in breast cancer,' said Arvinas chief executive John Houston.
The technology behind ARV-471 was developed by chemist Craig Crews at Yale. As a proteolysis targeting chimera, or Protac, it works a little differently from standard drugs. Rather than blocking or activating a protein target, Protacs hijack the mechanism cells use to destroy proteins. In the natural process, the enzyme ubiquitin ligase tags the protein with one or more units of ubiquitin, a 76-amino acid protein. The tag is recognised by the proteasome, a macromolecular protein complex, which then destroys the protein.
Protacs are bi-functional small molecules that tag proteins for destruction by the proteasome. One end binds to a ubiquitin ligase, the other is a ligand that targets the disease-causing protein, connected by a linker that ensures both are in the correct orientation. It's not important where on the protein it binds, just that it positions the ubiquitinylation machinery correctly. This could allow proteins to be targeted that were previously thought undruggable because of an inaccessible active site.
Arvinas has another Protac, ARV-110, in the clinic, targeting the androgen receptor in prostate cancer. At an earlier stage are programmes in tau protein that may have potential in Alzheimer's, and alpha-synuclein for diseases such as Parkinson's. Other collaborations include a target discovery deal with Genentech, and one with Bayer for agricultural applications.
While Arvinas is the furthest advanced, several more companies have Protacs and related molecules in, or close to, phase 1 trials – mostly for cancers. Bristol Myers Squibb, Nurix and Dialectic have phase 1 trials running against various forms of cancer, while Kymera (in partnership with Sanofi) has one for autoimmune diseases. A host of other start-ups and academic groups are in the earlier stages of development, and several have signed deals with big pharma companies.