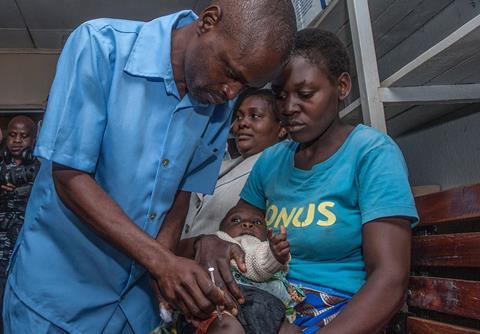 The first routine immunisations using GlaxoSmithKline's RTS,S malaria vaccine have begun in Malawi. This is the first of three pilot schemes to introduce the vaccine, which will also be trialled in Ghana and Kenya.
RTS,S, also known as Mosquirix, is designed to be administered to toddlers, and to be given in four doses. It targets the Plasmodium falciparum malaria parasite in the bloodstream and liver, aiming to disrupt its life cycle by preventing it maturing and multiplying.
Following trials in 2014 involving thousands of infants and children across seven African countries there was still a question mark over the vaccine's efficacy. It only offered protection against severe malaria in around a third of children receiving four doses, and no significant protection at all in babies.
However, the European Medicines Agency gave the vaccine a 'positive scientific opinion' the following year after considering its risk–benefit profile, and the World Health Organization (WHO) recommended pilot studies shortly after.
The immunisations will be integrated into existing healthcare regimes in the pilot countries, with the first of four doses given to children five or six months old, and the final one when they reach two years old. It is estimated more than 360,000 children will be vaccinated every year.
'We know the power of vaccines to prevent killer diseases and reach children, including those who may not have immediate access to the doctors, nurses and health facilities they need to save them when severe illness comes,' said Matshidiso Moeti, the WHO's regional director for Africa, in a statement. 'This is a day to celebrate as we begin to learn more about what this tool can do to change the trajectory of malaria through childhood vaccination.'