Norilsk Nickel claim iron salt leak poses no risk to the environment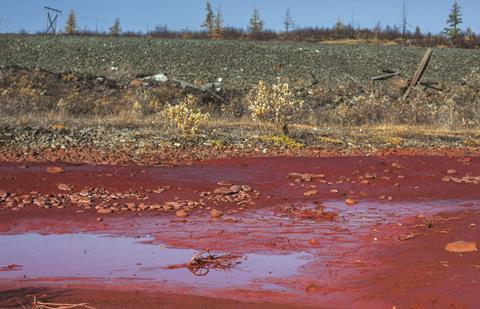 A Russian nickel company has taken responsibility for a spillage that caused a local river to turn blood red overnight.
On 6 September, social media channels were flooded with images of the crimson Daldykan River near Norilsk, an industrial city in northern Russia. Coined the 'river of blood', many were quick to place the blame for the striking colour change on effluent from a local metal factory.
Norilsk Nickel, the plant's owner, played down any suggestions of an industrial leak, even posting images on 8 September of a seemingly clean Daldykan river. Following pressure from environmental groups and Russian environment officials, however, the company has now acknowledged there was a spill.
Heavy rainfall on 5 September led to wastewater escaping from a filtration dam at the plant, according to Norilsk. The company claim the waste contained iron salts, which turned the river red. Norilsk insists the spillage 'presents no hazards for people or river fauna'.
Russia's environment ministry has now launched an investigation into the leak and its potential impact.