When mass spectrometrist Ali Abdul-Sada retired from Sussex University's chemistry department in March he passed on an innocuous-looking beaker full of dusty old test tubes to his colleague, Richard Layfield. But Layfield wasn't fooled by their appearance, he knew that those test tubes were priceless. 'I felt like I'd been put in charge of the crown jewels,' he says.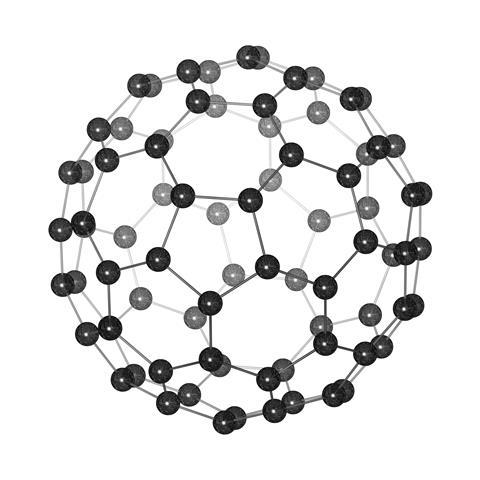 Sitting in those small test tubes were unique pieces of chemistry's history – these were the original samples of C60 and C70 from Harry Kroto's lab. Kroto, who died in 2016, wanted the samples and other artefacts to inspire others and be held in a dedicated room set aside for workshops and to display the archive from the discovery of fullerenes. As yet, a space has not been found in the chemistry department at Sussex.
The sooty samples Abdul-Sada had been safekeeping led to the unambiguous mass spectra showing that in this soot was an abundance of these new forms of carbon, the discovery of which led to Harry Kroto's share in the 1996 Nobel prize for chemistry with Robert Curl and Richard Smalley.1
Kroto, Curl and Smalley first discovered the existence of C60 in 1985 – using a cluster beam technique that led to fleeting glimpses of the football-shaped molecules in a mass spectrometer. But to characterise C60 unambiguously, and probe its chemistry, more of the stuff was needed.
In 1989 Wolfgang Krätschmer at the Max Planck institute for nuclear physics in Heidelberg, Germany reported that vapourising graphite rods in a helium atmosphere produced soot that contained C60 in far larger quantities than had ever been isolated before.2
Around the same time physicist Jonathan Hare was in the first year of his PhD under Kroto at Sussex. Kroto tasked him with trying to reproduce the fascinating results he'd seen from Krätschmer. Hare recalls that each time he made a sample, he would do an infrared (IR) spectrum to check for the distinctive pattern. Each IR sample was precious. 'I scraped that soot off and put it in a bottle,' Hare recalls. 'And over months I collected a tiny little vial of this soot which contained what we thought was C60.'
Mass spec maven
He handed over half of his precious sooty scrapings to Abdul-Sada, who was known in the department for his mass spectroscopy skills and who would work late, after the service technicians had finished work. Abdul-Sada remembers the evening he analysed Hare's sample. He made a solution with 3-nitrobenzyl alcohol – which was a crucial moment. Soot itself isn't soluble. But the ordered C60 is. If the sample contained C60 the spectrum should have had a peak at a mass of 720. 'A peak appeared at 719,' says Abdul-Sada. But this didn't worry him. 'My machine always changed calibration from day to night. It's a very old machine. I accepted it.'
The data remains in that very old machine today.
Kroto's widow, Margaret, says that in the days before he died, Kroto made it very clear what he wanted to happen to these samples, and others. 'I wrote it down as if he was dictating,' she says. He wanted to have a dedicated room and area where workshops and outreach activities could take place, led by Hare. The samples would be stored there in a locked glass cabinet, to be taken out and shown to interested participants. A proposal detailing how it should look has been prepared, Margaret Kroto says, and presented to the university. But so far, no plans for the room, or space, have been realised. 'The biggest stumbling block is always room,' Margaret Kroto says. 'I can't imagine what's going to happen,' she says, but adds that she's quite determined to create the legacy her husband wanted to see.
Original, original samples
Layfield first realised that Abdul-Sada had this remarkable archive when he was showing potential undergraduates around the department. 'I stumbled across them when I was taking part in an open day,' Layfield says. 'Ali got the samples out and said they were the original samples. I said "What do you mean they're the original ones? The original, original?" and he said yes.'
Layfield plans to still use the samples for open days, but might upgrade where they are kept. 'We'll probably put them in a container other than a simple beaker.'
'We are delighted that such good care has been taken of these important samples since their initial discovery over 30 years ago,' Wendy Brown, head of the chemistry department, said in a statement on behalf of the department of chemistry and the school of life sciences. The samples will remain in the department for outreach activities, she adds. 'The identification of a permanent location for the samples is currently on-going.'
Margaret Kroto also has some samples of C60 that could rejoin their counterparts in a dedicated store. 'They're sitting in our bathroom at the moment,' she says. 'There are lots of different things that are relevant that will be good to be in there,' she says of the proposed space.
For Hare, the passing on of the samples from the last remaining member of the Sussex Nobel-prize winning team is a poignant moment. 'Ali was the last connection,' he says.