WHO calls for delay to booster programmes to allow more global distribution
The US Food and Drug Administration (FDA) has given its first full approval of a Covid-19 vaccine to Pfizer and BioNTech. It will be marketed under the brand name Comirnaty.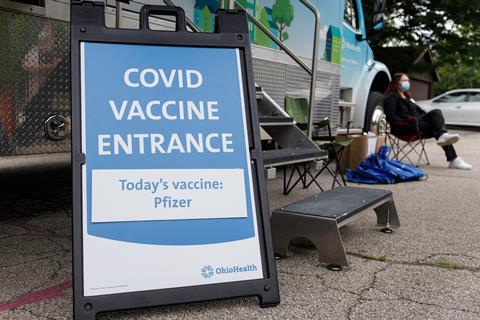 Since December 2020, the Pfizer–BioNTech vaccine has been available in the US under Emergency Use Authorization (EUA) for those aged over 16. EUA requires a vaccine to be safe, but the evidence bar is set lower than for full approval.
EUAs can be used during public health emergencies to provide access to medical products, so long as the FDA decides that known and potential benefits outweigh the known and potential risks. Pfizer–BioNTech's vaccine remains under EUA for children aged 12 to 15.
More US federal authorities and research institutes are now expected to make vaccination mandatory for employees. Mandating vaccines under an EUA has been 'a bit of a gray area,' says Ana Santos Rutschman, lecturer in health law at Saint Louis University, US, since this had not been tested in court. Some US states, including Florida, Texas, Montana and South Carolina, had blocked government entities from demanding proof of Covid-19 vaccines.
The full approval transforms this situation. 'Many of the legal issues now go away. We know that vaccine mandates are legal. Courts have spoken on this topic for over 100 years,' explains Rutschman. She adds that private employers will be more confident about making vaccines mandatory, although she is skeptical that people who are hesitant about taking Covid-19 vaccines will by convinced by the FDA decision.
Moderna has completed its own application for full FDA approval of its Covid-19 vaccine, which received its EUA in December 2020. Rutschman suggests that full approval of these vaccines should not negatively impact other companies seeking EUAs. 'We are still in a public health crisis,' she says.
To boost or not to boost
Meanwhile, a preprint from researchers at the University of Oxford, UK, suggests that the Pfizer–BioNTech and Oxford–AstraZeneca vaccines remain effective against the Delta variant of Sars-CoV-2, even though the absolute degree of protection wanes over time. The Pfizer–BioNTech vaccine's effectiveness at preventing people from developing a high viral load fell from 92% two weeks after the second dose, to 78% after 90 days. The figures for AstraZeneca were 69% after 14 days, slipping to 61% after 90 days.
Vaccination may not be reducing transmission as much as had been hoped, according to the study, meaning protection for the unvaccinated is not as good as might have been assumed and herd immunity is 'likely unachievable for emerging variants'.
Even so, the World Health Organization has called on countries to delay giving booster jabs until nations with lower vaccination rates can inoculate more people. Boosters should be evidence-driven and targeted at those in greatest need, it said.
Immunologist Luke O'Neill at Trinity College Dublin, Ireland, says that people with underlying health conditions and those over 60 years of age should get a third dose. 'I'd be keen on removing the term booster for that population. A third dose for those people is fully justified,' he says, whereas two doses should suffice for the general population.
'The only questions is how long will [protection] last, and that's really a work in progress,' O'Neill adds, noting that there is some evidence of strong immune memory at least six months after mRNA vaccination.