The early days of the Russian invasion brought missile strikes and food shortages to Bucha district, but evacuation was just as dangerous
On 24 February, Liudmyla Solianyk lived in Bucha district, 15km away from Kyiv. Her village took heavy damage as part of the Russian assault on Kyiv. On 7 March she left for western Ukraine. Before the full-scale invasion she was preparing to defend her doctoral dissertation (a higher degree than a PhD) at the Institute of Colloid Chemistry and Water Chemistry of the National Academy of Sciences of Ukraine.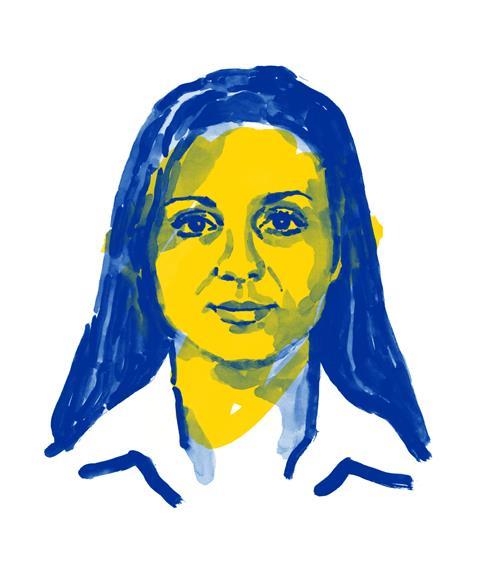 We got prepared and bought fuel and food; then on 24 February we heard an explosion at night. We thought we would be safe; no one would harm us. But the Russian troops were going forward so intensively and aggressively that by 27 February all connections with the neighbouring settlements where we could buy provisions had been cut. We lived in a cottage settlement; we didn't have any supermarkets, no people with farms where you could get something.
When the hostilities intensified near us, on 27 February, we saw missiles launched, including in the direction of our house. The kids were really scared, and we tried to hide in the well; this well is very small, feels claustrophobic and is cold and wet. That was psychologically very difficult, so instead we decided to hide with the kids in the house between at least two load-bearing walls. The temperature got down to –10°C. We were heating with the fireplace, and were cooking there. The dishes we prepared were great. That's the nice moment; all the rest were bad.
We stayed in the village for two weeks. We didn't go too far away from our house. We went a bit further only once, but then the bombing started about 500 metres away from us and we sprinted back home. We nearly broke our front door in the rush. That night, we were asleep, and our dog began howling very loudly. We heard a massive explosion and saw that somebody was injured in a neighbouring yard. Apparently, a fragment of missile landed there. Then I saw the Russian troops, and nobody was speaking much to anybody.
This is not the brink of a humanitarian crisis. This is the crisis itself.
People passed on information that we needed to evacuate. We quickly got a white sheet, got into our car just as we were, took the dog and drove away. It was very dangerous to leave as well. We saw the lines of civilian cars burned down; we saw the bodies of civilians who tried to leave.
After we left our village, I tried to connect with someone to bring some food there. But everybody said it's impossible. Even the Red Cross. There were instances when people were trying to eat pigeons. They were taking water from lakes, purified by whatever was at hand. This is not the brink of a humanitarian crisis. This is the crisis itself.
Before the Russian invasion I was carrying out research using quantum chemistry methods at the National Academy of Sciences. I had a doctoral dissertation prepared. I already went through the pre-defence, and my work had been passed to reviewers for my final defence. Now everything has collapsed. It's a shame. So much work done. I don't feel physically or psychologically capable of doing anything right now.
I think there should be organisations to help scientists self-actualise themselves, at least temporarily through grants and collaborative projects. That would distract us from bad thoughts and doomscrolling, and also help us to financially support those who need it in Ukraine. We also need more access to vacancies in laboratories abroad, to work there in safety while the war continues.
There are many talks and gatherings abroad with people singing the Ukrainian anthem. This is all very lovely, but we need to win right now. We need weapons. It would be great to get EU membership so that our country flourishes and we rebuild as soon as possible. We believe in victory, in help, in unity.
This article is based on an interview performed by Anastasia Klimash
Living through the war in Ukraine
1

2

3

4

Currently reading

Chemists in Ukraine: Liudmyla Solianyk

5

6

7

8

9

10

11