Short-term contracts, poor management structures, bullying and a lack of flexible working options are the major barriers barring female chemists from top jobs in academia, a report by the Royal Society of Chemistry (RSC) has found. To tackle the problem, the organisation will launch a first-of-its-kind harassment helpline as well as grants to cover childcare costs.
While 44% of undergraduate chemistry students in the UK are female, the percentage of women that go on to succeed in the discipline declines rapidly. Only 9% of UK chemistry professors are women.

This 'leaky pipeline' problem has long been known, but the reasons women leave academia have been disputed. Some surveys reported postdocs struggling with balancing work and family life, but most reports encompassed all sciences – despite researchers having identified significant disparities between fields.
The RSC, which publishes Chemistry World, has drawn up a five point action plan to increase gender diversity in the chemical sciences, including setting up a bullying and harassment advice helpline by summer 2019. Grants of up to £1000 per person are planned for early 2019 to enable those with caring responsibilities to attend conferences. A diversity recognition award and gender equality forum are further intended to accelerate a culture change across UK chemistry departments.
The report – which includes results from online surveys, interviews and focus group meetings – is the first one highlighting female chemists' reasons for leaving academia. Funding structures, academic culture and difficulties balancing responsibilities were identified as key barriers blocking women's progression and retention in research.
78% of the more than 300 survey respondents agreed that short-term contracts create uncertainty. At the same time, arbitrary funding criteria coupled with a 'publish or perish' mentality create unnecessary pressure on researchers. Many also criticised universities' leaders and a lack of transparency when it comes to hiring and promotion decisions.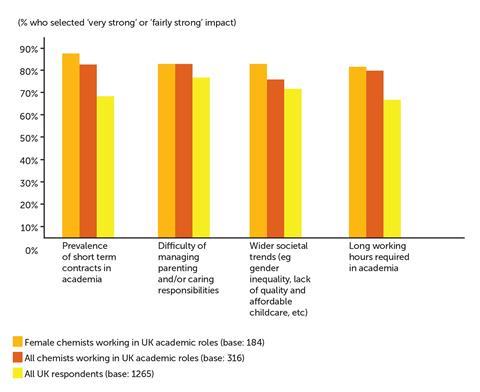 Difficulties juggling parenting responsibilities with long working hours were cited by 78% of survey respondents as major progression barriers. There are few options for part-time work in research and universities rarely provide affordable, high quality childcare.
While all of these factors apply to chemists of any gender, they disproportionately affect women, the report points out. 'The culture within academia and industry can be problematic for women but there is also an impact on work–life balance for men and we should not overlook this,' said RSC president Carol Robinson in a statement. Many female chemists face additional discrimination on grounds of their ethnicity, background or language skills.
But gender inequality is not only an academic problem. Although 99% of female chemists at UK institutions had seen evidence for women's lack of retention, so had 74% of respondents working in industry. 'There is plenty of evidence, and not enough action,' RSC chief executive Robert Parker writes in the report.
Recent scandals have put bullying in the spotlight. Staff at the Wellcome Trust Sanger Institute, the UK's leading genetics laboratory, went public with complaints about discrimination and mistreatment in August. An independent investigation highlighted management failings, prompting an apology from the institute's director, Mike Stratton, who was cleared of all allegations.
Earlier this year, cancer researcher Nazneen Rahman resigned after being accused of bullying by 45 current and former colleagues. Under its new anti-bullying rules, the Wellcome Trust also terminated Rahman's £7.5 million grant.
A 2017 survey by the University and College Union found that one in four UK respondents said they had been bullied by a colleague – significantly more than the one in seven among EU respondents. The RSC report also found strong anecdotal evidence of bullying and harassment. Survey respondents often indicated that institutions fail to deal effectively with such incidents.
'As the UK's professional body for chemical scientists, we are using our position, influence and connections to take the lead, push for accountability and develop best practice,' said the RSC's deputy chief executive Helen Pain.
Increasing diversity, however, is not just an ethical issue. In 2017, the management consulting firm McKinsey correlated gender diversity with companies' profitability. Across 300 companies, those with the most women on their executive committees had a 47% higher return on equity than those with none.
Correction: This article was updated on 12 November to clarify the results of the investigation into the Wellcome Trust Sanger Institute. The institute's director Mike Stratton was cleared of all allegations.