Oil reclaimed from drains may have been used to make an antibiotic intermediate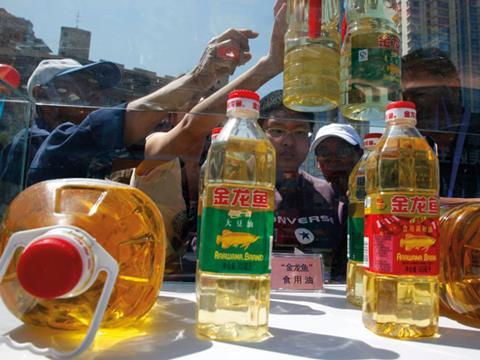 Several Chinese drug companies stand accused of manufacturing an antibiotic intermediate using contaminated 'gutter oil', instead of more expensive soybean oil. The intermediate, 7-aminocephalosporinic acid (7-ACA), is used to produce the cephalosporin class of antibiotics. The Chinese State Food and Drug Administration announced on 1 September that it is looking into this incident.
Gutter oil is reprocessed oil manufactured from waste oil and animal fat collected from restaurants' fryers, drains, grease traps and slaughterhouses. Chinese restaurants can get through a lot of cooking oil and this waste oil fuels a highly profitable gutter oil black market as there are few other outlets, such as biofuel production, for this food industry byproduct.
Last September, the Chinese Ministry of Public Security reported that 32 suspects were arrested in a cross province raid and six underground workshops and two illegal production lines were shut down. More than 100 tonnes of gutter oil were seized and a criminal network spanning 14 provinces was cracked, according to Chinese state news agency Xinhua. More than 10,000 tonnes of gutter oil are thought to have entered the market from this operation alone, according to the police.
Gutter profits
Gutter oil is produced in rudimentary local workshops or small factories, and refineries also take this waste oil. The workshops and small factories are illegal, while the refineries are legitimate manufacturers of biofuels or chemicals from the waste oil. These legitimate plants are now struggling to survive owing to competition for this waste oil with the gutter oil black market.
China consumes 22.5 million tonnes of cooking oil every year, of which around 2–3 million tonnes is thought to be gutter oil, according to He Dongping, a food researcher at Wuhan Polytechnic University, China. Grease companies and wholesalers buy the oil from refiners at between Yuan8100 and Yuan8300/tonne, lower than the average Yuan10,000/tonne for soya bean oil. Finally, the gutter oil flows into restaurants, animal feed and even the pharmaceutical industry.
Prosecutors say that the raw material for the gutter oil was collected from restaurant drains and other sources and then boiled and filtered at small workshops before being turned into roughly processed oil. The reprocessed oil was then sold at between Yuan5500 (£500) and Yuan6000/tonne to refiners Gelin Bio-Energy and Bohui Biotechnology in Jinan, Shandong. The refineries allegedly used distillation, adsorption and de-acidification technologies to remove unpleasant odours, lower the fatty acid content and decolourise the gutter oil so that it matched ordinary cooking oil.
Murky mixtures
During the trial, evidence was revealed that suggested the gutter oil from Gelin and Bohui not only entered the food chain, but also the pharmaceutical industry. According to court documents, Huikang Grease in Jiaozuo, Henan Province, mixed the gutter oil from Gelin with soya bean oil and sold 16,200 tonnes to Jiaozuo Joincare Biological in 2010 and 2011. It was sold to Joincare for use as a fungal growth medium for the production of 7-ACA, which is produced by enzymolysis of cephalosporin C isolated from fungi. Another 13,700 tonnes went to various animal feed producers and 160 tonnes to food firms. In total, 62 companies bought gutter oil from Huikang. Besides Joincare, China's biggest supplier of 7-ACA, Qilu Pharmaceutical and Charoen Pokphand are among the companies thought to have bought the mixed oil.
On 31 August, Zhu Baoguo, the board chairman of Joincare, defended the company and said that their 7-ACA products were not contaminated by gutter oil and were 'safe and meet the national standard'. However, some commentators have highlighted the low price and the expulsion of the purchasing director in August 2011 as reasons to be skeptical.
The potential health effects of the gutter oil used in the antibiotic intermediate's production are, however, still unclear. Experts have expressed opposing opinions on the safety of 7-ACA produced using this counterfeit oil.