Lack of funds and local manufacturing capacity has prevented Covax from competing with wealthier nations' self-interest
The Covax initiative is falling well short of its objective to deliver 2 billion doses of Covid-19 vaccines to lower-income countries by the end of 2021. Wealthy countries, while pledging funds to Covax, have sequestered almost all scheduled vaccine production for the year.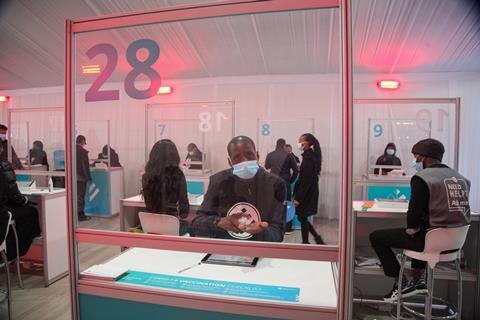 Covax is coordinated by Gavi, the Vaccine Alliance; the Coalition for Epidemic Preparedness and Innovations (CEPI); and the World Health Organization. It was described by Gavi as 'necessary because without it there is a very real risk that the majority of people in the world will go unprotected against Sars-CoV-2, and this would allow the virus and its impact to continue unabated'. So far, Covax has shipped just 150 million doses to 137 countries.
Covax is currently more likely to get doses via donations of surplus then directly from companies
Early on, Covax couldn't compete with richer countries in Europe and the United States, who were under political pressure to deliver more vaccines as outbreaks intensified in their countries. Those countries with the manufacturing capacity for vaccines received the lion's share. 'Most vaccines are made in high income countries,' notes Julia Barnes-Weise, director of the Global Healthcare Innovation Alliances Accelerator. 'Several high-income countries supported the development of the vaccines – the US in particular – setting the stage for follow-on purchase agreements.'
Vaccine availability is now low. Of the 11.4 billion doses expected to be made by the end of 2021, 10.85 billion doses are already sold, says analytics company Airfinity . 'Covax is currently more likely to get doses via donations of surplus then directly from companies,' says an Airfinity spokesperson. 'Only [Chinese manufacturers] Sinopharm and CanSino have extra doses, so there's not much else Covax can buy directly,' says the spokesperson. The EU pledged 200 million vaccine doses to countries that need them most by the end of this year. Under the Biden administration, the US promised in May to buy half a billion doses to donate via Covax.
Supply chain blockages
The US (under president Donald Trump) had repeatedly blocked exports of crucial raw materials for vaccine manufacture in 2020, just as factories were looking to scale up manufacturing, invoking its Defense Production Act. Pfizer's supply chain involves 280 components made at 86 sites in 19 countries, said World Trade Organisation (WTO) director-general Ngozi Okonjo-Iweala, in an online interview with think-tank Atlantic Council. Johnson & Johnson's has 180 components made at 67 sites in 12 countries. 'When you have those kinds of complicated supply chains, any restriction or prohibition is a real block on the production of vaccines,' added Okonjo-Iweala.
People got scared and said, if we're manufacturing vaccines, we want them for ourselves
Even wealthy countries such as Australia and Canada struggled to import vaccine. 'High-income countries that were willing to commit money earlier at higher risk were able to reserve the majority of the available doses,' explains Barnes-Weise. 'Those who didn't, like Australia, are also having problems.' Others view the outcome as inevitable under the current situation. 'The pandemic was disproportionately impacting European countries and the United States, so people got scared and said, if we're manufacturing vaccines, we want them for ourselves,' says Ingrid Katz, global health researcher at Harvard Global Health Institute.
'The lack of initial investment to Covax is what really hindered it,' confirms Katz. 'Wealthier countries did bilateral deals with companies like Pfizer and Moderna to lock up contracts.' She notes that by the time Covax received finances to purchase vaccines, 'it was already too late'.
Covax ended up relying on the Serum Institute of India for substantial quantities of vaccine, but the company experienced manufacturing difficulties, and India then curbed vaccine exports after a surge in Covid-19 infections. Much of that supply had been destined for poorer countries. 'India was meant to supply many countries, but vaccine nationalism and other problems meant that hasn't happened,' says Barnes-Weise.
'Our collective global efforts to ensure equitable access to these vaccines have failed,' admits epidemiologist Orin Levine, director of global delivery at the Bill & Melinda Gates Foundation. 'Globally, 84% have gone to people in higher income countries, compared to 0.3% in low-income countries.' He blames insufficient financing for manufacturing, procurement and delivery, as well as vaccine nationalism, which kept doses in higher-income countries.
The WHO director general, Tedros Adhanom Ghebreyegsus, in July urged Moderna and Pfizer to increase vaccine supply to poor countries, noting that wealthier countries are ordering millions of booster doses, before other countries have had supplies to vaccinate their health workers and most vulnerable. Infection rates are surging in southern Africa, Central Asia and South America. 'It is within the collective power of a few countries to step up and ensure that vaccines are shared, manufacturing is increased and that the funds are in place to purchase the tools needed,' said WHO senior advisor Bruce Aylward at a HWO press conference. 'There is now some sharing of vaccines happening but it's still only a trickle, which is being outpaced by variants.'
Regional manufacturing
Only seven African countries have companies operating in vaccine manufacturing, and only Senegal exports a WHO pre-qualified vaccine (for yellow fever). 'The need for vaccine manufacturing capacity is a point repeatedly made by political leaders [in recent years],' says Toyin Abiodun, a strategic advisor at the Tony Blair Institute for Global Change, and author of a recent report on the topic. She recommends that Africa's policymakers mandate an single body to coordinate vaccine procurement and production.
'Vaccine manufacturers on the continent have struggled to survive,' says Abiodun, 'largely to do with high production costs involving issues such as raw materials and skills access, and around quality assurance and poor regulation.' She is concerned that recent state-backed investments into manufacturing in higher income countries will put African manufacturers at a further cost disadvantage. There are some preliminary moves by both governments and vaccine producers to support domestic firms to 'fill and finish' vaccines (rather than manufacture the active ingredients), for example in Senegal and South Africa.
Gavi has switched track and developed a new financing mechanism with the World Bank that will allow Covax make advance purchases from vaccine manufacturers. 'Many people and organisations are trying to work on current fixes and future solutions,' notes Barnes-Weise. 'No one has ever made vaccines for the entire world before.'
'We have learned that expanding the geographic distribution of vaccine manufacturing capacity is critical to achieving vaccine equity – especially to regions like Africa that do not currently have robust manufacturing capacity,' says Levine at the Gates Foundation. 'Recent surges across the world and emerging variants have only exacerbated the global scramble for vaccine doses.'

I am a freelance science journalist based in Dublin, Ireland. I cover a variety of topics in chemical and biological sciences, as well as science policy, health and innovation.
View full profile