Brexit vote prompts fears over freedom of movement and funding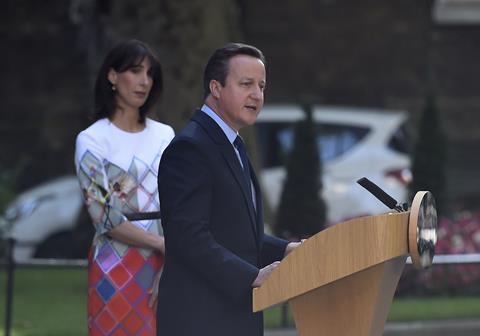 The UK vote to exit Europe has left the science community facing an uncertain future. Many scientists have expressed concerns about the challenges such an exit will now present, but those who backed 'Brexit' claim science will be unaffected in the long term.
The final referendum result shows the leave vote won out over remain by a margin of 51.9% to 48.1%. The electoral commission announced a 72.2% turnout, with 33,568,184 votes counted.
Following the result, the UK prime minister David Cameron has announced he will resign and leave office by October 2016. In a press statement, Cameron confirmed Article 50, the protocol for leaving the EU, will be invoked by his successor and it could take several years for the UK to leave the EU.
He also stated the UK is a special country that can find a way to survive outside the EU. 'We have so many great advantages – a parliamentary democracy where we resolve great issues about our future through peaceful debate,' Cameron said. 'A great trading nation, with our science and arts, our engineering and our creativity respected the world over.'
'Poor outcome'
But many UK scientists have responded to the result with disappointment and unease. 'This is a poor outcome for British science and so is bad for Britain,' said Paul Nurse, former president of the Royal Society. 'Science thrives on the permeability of ideas and people, and flourishes in environments that pool intelligence, minimise barriers and are open to free exchange and collaboration.'
'EU membership has been part of the UK in broad and deep ways,' said Dominic Tildesley, president of the Royal Society of Chemistry, in a statement. 'From the point of view of science, research and innovation there is now considerable uncertainty about how an EU exit will affect access to EU funding for research, the freedom of researchers to work across the EU and the application of EU regulations across the science and technology sector.'
[[I don't think there's any good news in this, for chemistry, for higher education]]Anne Glover, dean for Europe at the University of Aberdeen, UK, and the EU's former chief scientific adviser, shared Nurse's disappointment: 'Our success in research and resulting impact relies heavily on our ability to be a full part of European Union science arrangements and it is hard to see how they can be maintained upon a Brexit.'
'Science is certainly one area where we have considered demonstrable added value of working together on policy, on the infrastructure, on fund sharing and also the benefits of the freedom of movement,' says Mike Galsworthy, the director for Scientists for EU. 'All of these are thrown into uncertainty now – because there's no plan, we have uncertainty.'
It's an uncertainty shared by Angus Dalgleish, an oncologist at St George's University of London who is part of the Scientists for Britain campaign. 'What it means for science: one, I don't know, I really don't know,' says Dalgleish. 'Two, I went around debating very strongly that we had to get out of the EU because the political situation, I believe, is untenable.'
Dalgleish says his main issue was one of sovereignty and that, even though there will be a period of uncertainty, UK science will continue to flourish outside the EU. 'Obviously there's going to be a bit of short term pain because there's going to be a lot uncertainty,' he says. Dalgleish points out that industry figures such as engineer James Dyson and Luke Johnson, business entrepreneur and former chair of the Royal Society of Arts, said that in the event of leaving the EU 'creativity and innovation will thrive'. 'I totally agree with them,' adds Dalgeish.
Wider effects
The vote has left UK universities scrambling to reassure staff and students from other member states that there would be no immediate effect on them. The Russell Group of research intensive universities said it would be seeking assurances from the government that staff and students from the continent would be able to continue working and studying in the UK after it leaves the EU.
Whether the referendum result will leave UK research poorer is still unclear, however. The Royal Society has calculated that the UK contributes €5.4 billion (£4.4 billion) to European R&D programmes but received €8.8 billion in return so the research community could be set to lose out. It is possible that the government could make up the shortfall but it's much too soon to make any predictions on how a government headed by a new prime minister would respond. EU cash only made up a relatively small proportion of total R&D funding between 2007 and 2013 – around 3%. However, universities are more dependent on EU funding, receiving 10% of their research money from the bloc.
Seeking a precedent for the effect leaving the EU would have on a nation's science base simply isn't possible as there isn't one. However, Switzerland, which isn't even a member of the bloc, has had a recent run-in with the EU that is revealing. After the Swiss voted in a referendum to restrict migration from the EU, the European commission responded by freezing the country out of a number of huge research programmes, including the €80 billion Horizon 2020. If the commission was prepared to expel a research powerhouse like Switzerland there are no guarantees that the UK won't face the same fate.
'I don't think there's any good news in this, for chemistry, for higher education,' says Tom Welton, a chemistry professor at Imperial College and the head of the Heads of Chemistry UK. 'I won't speak for the wider economy, but I don't think there's any good news in this.'
Business puts on a brave face
Organisations representing chemical-using industries across the UK and Europe are united in expressing their disappointment at the result of the referendum, along with their determination to work with companies and governments to negotiate the best possible terms under the situation.
'While business craves certainty, it is also used to operating in challenging and changing circumstances,' said Steve Elliott, chief executive of the UK Chemical Industries Association. 'I am confident that an important and resilient industry such as ours can prosper in this new situation.'
Steve Bates, head of the UK BioIndustry Association, said that the vote raises 'key questions about regulation of medicines', intellectual property, recruitment of talented personnel and the single market. 'This will require detailed and dispassionate thinking … as we work through these complex issues,' he added. The future of the European Medicines Agency based in London is also in question.
The European Chemical Industry Council (Cefic) highlighted the importance of the UK chemical industry's trade with Europe, with over €20 billion each of imports and exports exchanged between the UK and the rest of the bloc. 'Given this importance, we need to work closely to ensure that existing trade and investment is not weakened and future opportunities are seized,' the organisation stated. Mike Thompson, head of the Association of the British Pharmaceutical Industry, added that the UK must 'send a strong signal that the UK is open for business'.
Additional reporting by Patrick Walter and Phillip Broadwith