Promises to match European research funding secured before Brexit made by UK government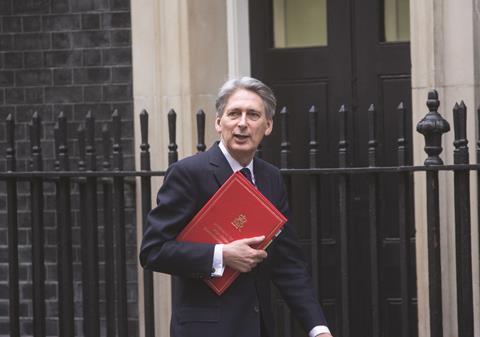 UK universities and businesses should continue to bid for EU funds while the country remains a member of the bloc, the chancellor Philip Hammond has said. In an effort to provide some certainty after the Brexit vote, the Treasury has said it will underwrite funds awarded while the UK is still a member of the EU, even if projects continue after the country has left the EU.
Hammond said that he recognises that many organisations that receive EU funding, or expect to start receiving funding, want reassurance that the money won't dry up. He has confirmed Horizon 2020 research funding granted before the UK leaves the EU, and structural and investment projects signed before the autumn statement, will be guaranteed by the Treasury. The Treasury will assess whether to guarantee funding for specific structural and investment projects that might be signed after the autumn statement, but while the UK remains an EU member.
This measure removes some uncertainty in the funding status of UK-based researchers so ensuring that European colleagues can confidently collaborate with UK-based researchers, who can also participate fully in European research programmes, says Venki Ramakrishnan, president of the Royal Society. 'Today's announcement sends a strong message that Britain remains open and collaborative.'
Alistair Jarvis, deputy chief executive of Universities UK agrees: 'This is encouraging news that provides much needed stability for British universities during the transition period as the UK exits the EU and provides an important signal to European researchers that they can continue to collaborate with their UK colleagues as they have before.' But he urges the government to move quickly now to address the uncertainty amongst EU students considering applying to UK universities. He would like the government to confirm that those beginning courses before the UK exits the EU will be subject to current fees levels and financial support arrangements for the duration of their course.
Royal Society of Chemistry deputy chief executive, Stephen Hawthorne, welcomed the announcement, saying: 'This is a positive signal that the importance of science is being taken seriously, and will help to restore much needed confidence in the research community for the short term. Greater questions remain around the future ambitions for UK science outside the European Union, including how we will foster and fund international collaboration in the long term and we look forward to hearing those addressed in due course.
'Our hard-won position as a world leader in science is crucial to the whole of the UK. We will continue to work with our fellow learned societies and the government to ensure that future frameworks for funding, mobility of scientists and regulation can be developed in a way that maintains our world-leading knowledge economy.'
Anne Glover, vice principal external affairs and dean for Europe at the University of Aberdeen, also welcomed the announcement but cautioned that the research community needs to continue to apply pressure to ensure these commitments are fully honoured. 'We must also highlight the importance of having explicit responsibilities for science, engineering and technology in the department for exiting the EU as argued for by Scientists for the EU, the Royal Society and many others.'