Experts say business models must change to halt big pharma exodus
News that Novartis is the latest pharma giant to exit the antibiotics space has prompted warnings that the ability to tackle antimicrobial resistance is getting weaker and could get worse if the failure of the antibiotic business model is not addressed.
The Swiss pharmaceutical manufacturer announced it was dropping its antimicrobial research programmes, resulting in the loss of 140 jobs, based on the decision 'to prioritise our resources in other areas where we believe we are better positioned to develop innovative medicines that will have a positive impact for patients'.
Noting that the antimicrobial programmes should still have the chance at development, the company said it would sell the licences of its projects to other pharma firms, including the phase 2 drug LYS228, for complicated intra-abdominal and urinary tract infections.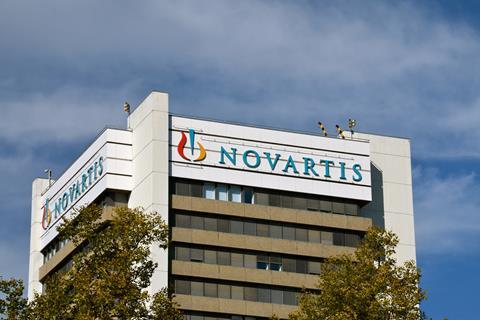 Novartis' withdrawal from the antibiotic space follows a recent exodus of other big pharma firms including AstraZeneca, Sanofi, Bristol-Myers Squibb and Allergan.
According to Ana Nicholls, a healthcare analyst at The Economist Intelligence Unit, Novartis' decision to exit antibiotics research was 'understandable', given its strategy to focus on core areas of expertise, but the announcement was 'a big setback' for international efforts to contain the risk of antimicrobial resistance. 'If a company the size of Novartis is not investing in this area, then the chances of combating antimicrobial resistance are getting slimmer,' she told Chemistry World.
However, this latest exit from the space shouldn't come as a surprise, says Kevin Outterson, professor of health law at Boston University and associate fellow at policy institute Chatham House. 'So long as we don't appropriately value antibiotics in the market, we can expect these large companies to make similar decisions.'
'I am particularly concerned about the huge loss in human capital. Most of the 140 people let go will find jobs outside of antibiotics, permanently diminishing our strategic infrastructure to respond to bacterial threats,' adds Outterson.
Antibiotics face low prices compared with other therapy areas, alongside short periods of use, and the tendency for new drugs to serve as a last resort to avoid resistance. According to a study from Duke University's Margolis Center for Health Policy, only five of the 16-brand name antimicrobials approved between 2000 and 2017 brought in more than $100 million in annual sales. 'The cost of developing new drugs and the poor potential for return in this category means this sort of R&D is not well-suited to big pharma companies,' says Hilary Thomas, chief medical advisor at KPMG.
Academia and small biotech have taken up the research mantle as antibiotic resistance has moved up the political agenda in recent years. Several initiatives have launched to encourage more research – for example, a £10 million research competition in the UK – which has boosted the number of research projects focused on finding new drugs and understanding resistance.
Poor payback
However, these government initiatives only contribute small sums of money to the research cause compared with the £1.2 billion figure that is cited for bringing the average pharmaceutical drug to market. 'Despite government efforts to encourage research, pharma companies continue to struggle with the market failures for antibiotics… The scale of payback for antibiotic research is still just not big enough to incentivise big pharma, which limits the overall amount of investment going into this area,' Nicholls says.
Novartis' decision to halt research illustrates the complexity of this environment and the dilemmas that companies face, says Thomas Cueni, director general of the International Federation of Pharmaceutical Manufacturers and Associations.
'Novartis is now the fourth large pharmaceutical company in the past two years to exit this space. This clearly indicates the urgent need to move from talk to action with market-based pull incentives [such as financial reward or exclusivity extensions] to create a viable economic environment for much needed research into new antibiotics,' says Cueni. 'Without progress on pull incentives, some of the few remaining companies are likely to follow, taking with them vital expertise and resources invested in antibiotic R&D.'
Calls to change the antibiotic business model – which currently links payments to use rather than effectiveness – have increased over the past few years, but there has been little movement at government levels to address this. Although the US Congress recently introduced legislation – the Re-valuing anti-microbial products act of 2018 – which would give antibiotic makers an extra 12-months' exclusivity on any other medicine they want, even blockbusters.
The scale of payback for antibiotic research is still just not big enough to incentivise big pharma
According to the AMR Industry Alliance's first progress report, 72% of companies would increase investment in antibiotics if valuation mechanisms and commercial models improve but 31% of respondents (and 50% of big pharma companies) warned they would likely reduce investment in the area if valuation mechanisms and commercial models remain as they currently are. Cueni says addressing this is a matter of urgency.
But there has been some progress – about a dozen new antibiotics have been approved since 2009. GlaxoSmithKline and J&J lead the way in antibiotic research, according to a report by the Netherlands-based Access to Medicine Foundation. GSK has the most antimicrobial medicines in its pipeline (more than 50 projects), including two for the highest priority antimicrobial resistance targets. However, the company recently put some antimicrobial assets under review.
In the meantime, firms are still struggling to find new drug classes and modes of action to fight resistance. According to the World Health Organization, just eight of 51 drugs it identified in the clinical pipeline are deemed as innovative in addressing resistance concerns.