Pyrimidine-based compounds produce brilliant blue glow for cheap next-generation displays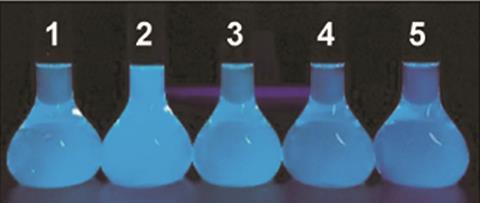 A group of Japanese researchers has developed a family of twisted organic molecules that produce brilliant, deep-blue fluorescence. The cheap and stable compounds could be used in next-generation flexible displays.
The development of blue light emitting diodes (LEDs) earned their discoverers deserved the Nobel prize in physics in 2014. But when it comes to organic LEDs (OLEDs), which are starting to replace the heavy and rigid liquid-crystal displays, those that produce a pure deep blue hue remain elusive. Scientists have developed brilliant red and green OLEDs from organometallic compounds containing iridium and platinum, but most blue-emitting molecules have low efficiency and stability.
Takuma Yasuda and his team at Kyushu University, Japan, have now developed a new class of thermally activated delayed fluorescence (TADF) molecules that produce a strong deep blue glow. And they are not only more efficient emitters, but also cheaper and more stable than their organometallic counterparts.
'TDAF molecules are composed of electron donor and acceptor moieties. To induce the best fluorescent properties, the energy between the different excitation states must be reduced,' explains Yasuda. To achieve this, his team created twisted pyrimidine-acridan derivatives, where one part of the molecule is orthogonal to the other. This geometry creates just the right energy gap between the molecule's filled and empty orbitals to result in a vibrant blue emission.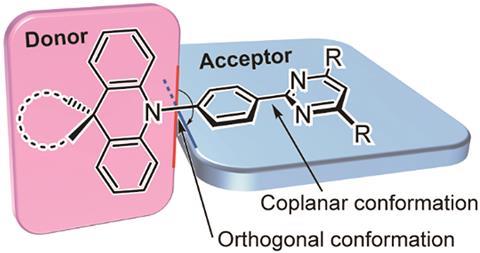 Karl Leo, a researcher at the Integrated Center for Applied Physics and Photonic Materials in Dresden, Germany, says that making deep blue OLEDs has remained challenging. 'To date, all commercial OLEDs use very low efficiency blue emitters. [Yasuda and colleagues] have made excellent progress with these TDAF materials showing internal efficiencies of around 100%.' However, Leo remains sceptic 'about the lifetime of these new compounds, which is not addressed in the paper'.
Having established the molecular design that makes the pyrimidines create their brilliant blue, Yasuda's team used computational calculations to modify the compound's different functional groups and simulate the resulting compounds' photophysical and electronic properties. Yasuda expects this model to allow them to 'design high-efficiency ultrapure blue materials and devices in the near future'.
References
This article is open access
I S Park, H Komiyama and T Yasuda, Chem. Sci., 2016, DOI: 10.1039/C6SC03793C