Ben Valsler
Hello and welcome to the Chemistry in its element podcast. Almost 10 years ago, we embarked on a voyage of discovery – using the periodic table as a chart, we set out to find the stories behind the chemical elements. We journeyed to the edge of the chart and out into chemical space – searching out the stories of compounds once we had exhausted the elements. But a lot can happen in a decade, and the periodic table is not set in stone.
This week marks Dmitri Mendeleev's birthday, so by way of celebration Kit Chapman will be telling the tales of the newest, heaviest elements throughout the next week. We start where we left off, with element 113.
Kit Chapman
The Japanese have two words for their homeland. When it comes to element discovery, that's a pretty lucky linguistic quirk: otherwise Japan's contribution to the periodic table might never have been recognised.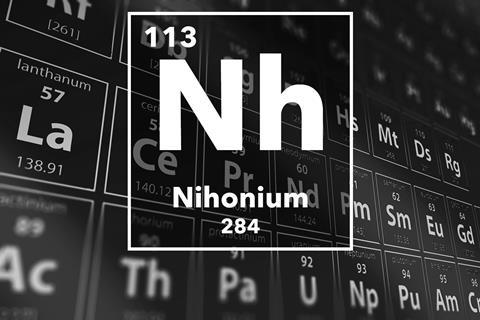 In 1909, the Japanese chemist Masataka Ogawa thought he'd discovered an element. Working with William Ramsay, he'd been analysing the mineral thorianite and isolated a small amount of an unknown substance. At the urging of Ramsay, Ogawa declared he'd found element 43 and named it nipponium after his homeland. Unfortunately, Ogawa's results couldn't be replicated – and when element 43 was finally produced by the Italian duo Carlo Perrier and Emilio Segrè, it was called technetium. Later, it would turn out Ogawa had probably discovered and misidentified element 75, rhenium, but by then the name nipponium was forgotten. It was a national shame that burdened Japanese science for the next 100 years, as the Nishina Center director Hideto En'yo explains when I met him at the RIKEN institute, just outside Tokyo:
Hideto En'yo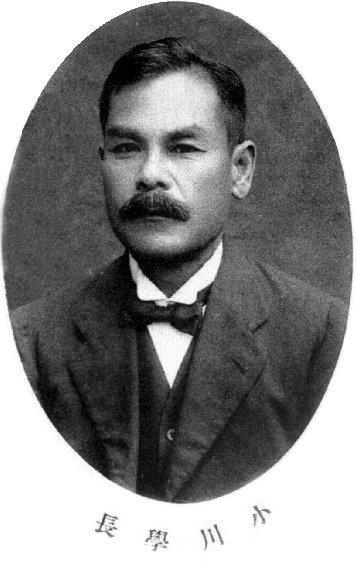 It's a dream. One hundred years ago, Ogawa discovered, he claimed, the name now is technicium. However, it was uranium. But technicium – you don't have any stable isotope, so you can't find it by digging anywhere, you have to make it. It was another isotope. So since then, that was a national dream to recover that mistake. Somehow, since Morita started here more than thirty years ago, he was charged to look into it. He needed twenty years to catch up. And ten years ago we became ready. Our new facility. For the moment we operate the biggest uranium smasher in the world. Due to this upgrade we became ready to compete with the world. So in about 2002, we started the experiment. Now we were going to win the game.
Kit Chapman
In September 2003, a team of Japanese scientists at the RIKEN institute set out to create a new element. Working at RIKEN's Nishina Center for Accelerator-Based Science in Wako City, Kōsuke Morita's team decided to bombard a target of bismuth-209 with an accelerated beam of zinc-70 ions, travelling at around 10% the speed of light. This was a technique called 'cold fusion', using heavier nuclei with lower energy to reduce the chance of the newly formed atom breaking apart. The method had been successful in Germany, leading to the discoveries of elements 108 to 112. But cold fusion produced very few results.
The Japanese team were also not alone. A US–Russian team at the Joint Institute for Nuclear Research in Dubna and Lawrence Livermore National Laboratory in California were also trying to discover the element. The Americans and Russians were using a different method, hot fusion, to discover element 115, and were recording as it decayed in to 113. The race was on.
In June 2004 the Russians and Americans detected evidence of a single atom that could have been element 113. A month later the Japanese team reported they had done the same, recording fusion of the beam and target as it quickly decayed to element 105, dubnium, before breaking apart in spontaneous fission. In April 2005, the Japanese reported a second, identical, event. That December, the US–Russian group also reported another sighting of 113.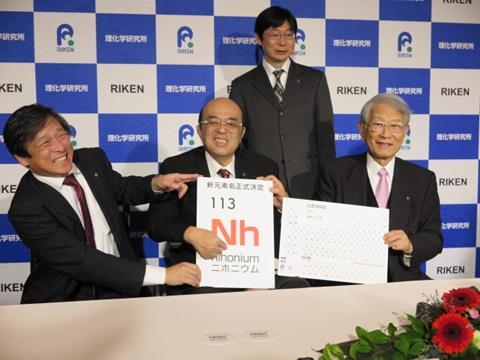 Neither group's evidence was enough to impress IUPAC, the international body that governs element discovery. The US–Russian collaboration moved on, unwilling to put up with the costs of the experiment. The Japanese team weren't ready to quit. Unfortunately their luck had run dry. For the next seven years, they ran the accelerator 24 hours a day, trying to get that final, conclusive sighting of element 113. Funding was running out. But the Japanese wouldn't give up. Then came the strangest saviour possible: an earthquake that caused a nuclear disaster.
Hideto En'yo
We gained a lot of beam time due to the earthquake, since it's cheaper and more important. In the two years after the great Tōhoku earthquake we were starving for electricity, there was a great pressure not to use a lot. But then we said 'we just want to do this one'. So we run most of the time. By doing so we gained luminosity, larger and larger.
Kit Chapman
The Fukushima disaster caused electricity costs to skyrocket. RIKEN ordered all accelerator programmes to wrap up to save expenses. Morita's team were allowed to keep one experiment running. They chose the attempt to make element 113, and on August 12, 2012, almost nine years after they had started, they produced a third decay chain. This time the atom didn't spontaneously break apart at dubnium. It transformed into lawrencium, then mendelevium. There was no doubt any more: the decay chain proved the team had made 113.
In 2016, RIKEN were invited to name their creation. While there were a few suggestions, there was only one possible winner. A century earlier, Japan had been denied nipponium – but there was a second possible word for the land of the rising sun, Nihon. In November 2016, the world agreed with RIKENs proposal: element 113 would be called nihonium. Japanese science would forever be recognised on the periodic table; the blemish on national honour had been corrected.
Ben Valsler
That was Kit Chapman, with the century long battle to see Japanese science recognised on the periodic table. Coming up next, an element borne of an unlikely collaboration.
Kit Chapman
The attempt to fill the missing elements 'gaps' of the periodic table stretched thirty years; but at the extremes of the table, the hunt for flerovium, from the first attempts until its discovery in 2012, took at least forty years of cold war rivalry.
Ben Valsler
Kit returns with the story of flerovium, element 114. In honour of Mendeleev's birthday, we've collected all of our element podcasts, along with element-flavoured news, features and opinion content on a special page – find all of that at chemistryworld.com/periodic-table. And as usual, you can get in touch with any questions or comments – email chemistryworld@rsc.org or tweet @chemistryworld. I'm Ben Valsler, thanks for joining me.