Chris Smith
Hello this week the illuminating story of the chemical that christened a light bulb company and helps us to find fingerprints but in the wrong hands can stink to high heaven. To tell the story of the densest element we know here's science broadcaster Quentin Cooper.
Quentin Cooper
Given the whole periodic table to choose from, how to pick a particular element to talk about rather than any other? They've all got their charms and quirks – well, except maybe bismuth. I've never had much time for bismuth – but the deal was I had to single out one. And then it came to me. A real light-bulb moment. osmium. Under-appreciated under-exploited osmium – if any element needs a change of PR this is the one. It's brittle, prone to ponginess and arguably the dunce of the periodic table. Even the man who discovered osmium treated it rather sniffily. Perhaps in part that's because Smithson Tennant, an English chemist, was also the first to establish that diamond is a form of carbon, so this was never going to match up to that glittering career highlight. What also didn't help was that his discovery of osmium around 1803 came as part of a job lot – he isolated another element, alongside it: also a metal it was hard and yellowy-white and some of its compounds had a kind of rainbow sheen when they caught the light so he gave it a nice shiny name – iridium as in iridescent. No such luck for the bluish-silver substance he found at the same time: it reeked – or at least some of its compounds did. Tennant described the "pungent and penetrating smell" as one of the new element's "most distinguishing characters". So he called it osmium – osme being the Greek for odour. Not very nice, but at least apposite: as a powder even at room temperature it gives off osmium tetroxide, which is so corrosively pungent it can damage the eyes, lungs and skin...although strangely that doesn't prevent it sometimes being used – with extreme care – to help detect fingerprints..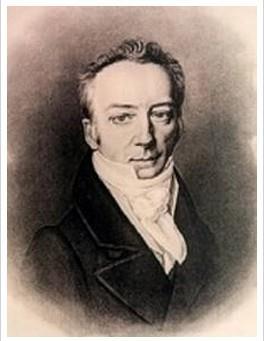 So osmium is not just an element, it's a smellement, and it's also way beyond lead and gold and platinum as probably the most immensely dense of the whole bunch. I say probably because it depends how you measure it – and while some rate it as densest, others argue it's just pipped by the very thing it was discovered with, iridium. Down the decades as tests have been refined, the right to wear the dense-is cap has repeatedly shifted between the two...making the only safe option to declare them joint-winners of the prestigious title of densest element in the periodic table. Given the two share both discovery and a date with density it's perhaps no surprise to find they also rub along in nature and occur as an alloy, wittily known as osmiridium – something you'll find in upmarket fountain pen nibs and odd bits of surgical equipment. Osmium itself also plays a part in some catalysts, and is used for staining specimens in microscopy.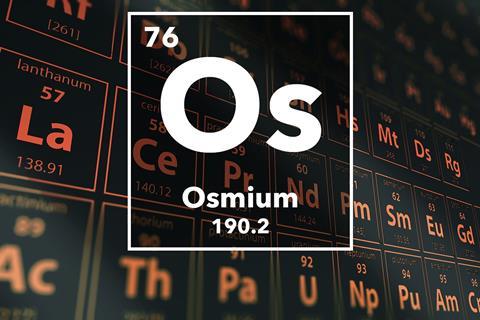 None of these is what you might call a bulk application – which may account for why it's estimated that the current annual amount of osmium now produced right around the world weighs less than a large tiger. Or about 100 kilograms if you prefer conventional units. Time was, though, when osmium was considerably more sought after. Not because of its density or smelly compounds, but because of its high melting point. Very high – over 3 thousand degrees C. After Thomas Edison produced the first commercial electric light in 1879, the race was on to improve on his design – for starters there was the filament – the bit that glows to produce the light but, crucially, doesn't melt. There had to be something better than Edison's use of bamboo – I mean, bamboo, really, what was he thinking? Lots of possibilities were explored, but – largely thanks to the work of the Austrian chemist Carl Auer Von Welsbach – the top two elements-as-filaments ended up being osmium and tungsten, which has an even higher melting point. These days it's tungsten that's the clear favourite, but in 1906 when a name was needed for a new German company making these improved lights, they simply went with a verbal alloy of the two. Os from osmium and ram from wolfram – the German name for tungsten, hence osram – now one of the largest lighting manufacturers in the world and hence my bright light-bulb moment when it came to picking osmium.
Chris Smith
Quentin Cooper who was turning the spotlight for us this week onto Osmium. Thanks Quentin. Next time we're meeting the metal that can sooth this burning issue.
Andrea Sella
A few weeks ago I had a stupid accident in the lab. I wont go into the details; I am not terribly proud about what happened. But the result is I suffered from some superficial burns on my face and neck. I was seen to by a specialist nurse who nodded at me and then handed me tub of ointment. 'Its flammacerium', she said, 'apply it twice a day'. 'Flama what', I replied, 'cerium', she said. I was delighted. 'Cerium, it can not be serious, it's my favorite element'.
Chris Smith
And that's Andrea Sella who will be introducing the chemical that can quite literally get right under your skin but at the same time clean up car emissions and also polish the mirrors of telescopes. That's the science of cerium in next week's Chemistry in its Element, I hope you can join us. I'm Chris Smith, thank you for listening, see you next time.